Nigeria abductions: Send us your comments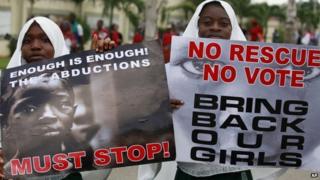 The US has sent a specialist team to Nigeria to help find more than 200 schoolgirls who were abducted by militants in April.
Nigeria has been criticised for its slow response to the kidnappings, however Nigerian President Goodluck Jonathan has said he hoped "a turning point" had been reached in the fight against Islamist insurgents Boko Haram.
The schoolgirls were seized from their boarding school on the night of 14 April in the town of Chibok in north-eastern Borno state.
Boko Haram's leader Abubakar Shekau has admitted that his fighters had abducted the girls - who are mostly aged between 16 and 18 and were taking their final year exams - from their school.
He threatened to "sell" the students, saying they should not have been in school in the first place, but rather should get married.
The abductions have triggered a growing social media campaign with the hashtag #BringBackOurGirls backed by public figures and celebrities.
Are you in the Nigerian state of Borno or do you have any relatives there? Do you travel to the area regularly or know anyone that does? Do you have any further information on Boko Haram or on the latest developments? You can send an email to haveyoursay@bbc.co.uk adding 'Nigeria abductions' in the subject line.