Ukraine crisis: Russia alarmed over US-Nato military moves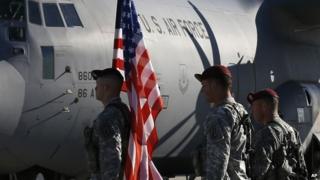 Moscow has voiced concern over an "unprecedented" increase in US and Nato military activity near Russian borders, amid an escalating crisis in Ukraine.
Russia's defence minister condemned "provocative" US and Nato comments.
Pro-Russia activists have seized buildings in more than a dozen towns in east Ukraine and hold seven European military observers in Sloviansk.
The EU has stepped up its sanctions, naming 15 new targets on Tuesday, a day after the US ordered similar measures.
The US sanctions targeted seven Russian individuals and 17 companies which Washington says are linked to President Vladimir Putin's "inner circle".
The European Union's list includes Gen Valery Gerasimov, chief of the Russian General Staff, and Lt Gen Igor Sergun, identified as the head of the Russian military intelligence agency, the GRU.
It also includes Russian Deputy Prime Minister Dmitry Kozak and pro-Russian separatist leaders in Crimea and in the eastern Ukrainian cities of Luhansk and Donetsk.
The BBC's Matthew Price in Brussels says this list does not appear to follow the US line in targeting President Putin's associates, but rather those involved in events on the ground in Ukraine.
'Provocative'
In a statement, Russian Defence Minister Sergei Shoigu said he had a "candid" hour-long phone call with his American counterpart Chuck Hagel.
Mr Shoigu stressed that US and Nato military activity in eastern Europe was accompanied by "provocative" statements about the need to "contain" Russia.
The US has sent 600 troops to Poland and the Baltic states. Washington says it has deployed the extra troops to reassure Nato allies.
Mr Shoigu announced that Russian troops had returned to their "permanent positions" after conducting military exercises on the border with Ukraine.
The Pentagon said Mr Shoigu had given "assurances that Moscow has no plans to invade Ukraine".
Deputy Foreign Minister Sergei Ryabkov repeated the line on Tuesday, telling Interfax that Moscow was "not at all inclined to repeat the so-called Crimea scenario in south-eastern Ukraine. There are no grounds to fear this".
Mr Hagel called on Moscow to help secure the release of the seven military observers linked to the Organization for Security and Co-operation in Europe who were seized by pro-Russian gunmen in Sloviansk last week.
Some 40 people, including journalists, pro-Kiev activists and three members of Ukraine's security service are being held there.
The Russian ambassador to the OSCE, Andrei Kelin, earlier said Moscow was taking "steps" to secure the observers' release.
Journalist's ordeal
The US and EU first imposed visa bans and asset freezes on a number of senior Russian officials and companies after Moscow annexed Crimea from Ukraine last month.
On Monday, Washington added to its sanctions list "in response to Russia's continued illegal intervention in Ukraine".
Russian Deputy Foreign Minister Sergei Ryabkov said Moscow's response would be "painful for Washington".
Among the individuals named were Igor Sechin, head of state oil giant Rosneft, and Alexei Pushkov, chairman of the committee of international affairs of Russia's lower house.
Gas producer Gazprom, whose chief executive was spared sanctions, warned in a statement on Tuesday that further measures could damage its business and the BBC's Daniel Sandford in Moscow says there is a sense of nervousness in Russia that sanctions may start to bite.
The EU has now announced sanctions on a total of 48 individuals. It has avoided targeting business leaders such as Mr Sechin.
The US has accused Russia of "doing nothing to meet the commitments it made" at a meeting with Ukraine, the US and EU in Geneva on 17 April, which it said had included refraining from violence or provocative acts.
Name
Position
Sanctioned by
Putin's 'inner circle'
Gennady Timchenko
Founder of Gunvor (oil and energy market trading)
US
Arkady Rotenberg and Boris Rotenberg
Co-owners of SMP Bank and SGM Group
US
Yuri Kovalchuk
Largest single shareholder of Bank Rossiya
US
Igor Sechin
Head of Rosneft (petroleum company)
US
Government officials
Sergei Ivanov
Chief of staff for Presidential Executive Office
US
Oleg Belaventsev
Russian presidential envoy to Crimea
US and EU
Vladimir Yakunin
Chairman of Russian Railways
US
Igor Sergun
Director of GRU
EU
Valery Gerasimov
Chief of General Staff of Russian Armed Forces
EU
Vladimir Kozhin
Head of administration
US
Viktor Ivanov
Director of Federal Drug Control Service
US
Sergei Naryshkin
Speaker of the lower house of parliament
US and EU
Vladislav Surkov
Presidential aide and election adviser
US and EU
Dmitry Rogozin
Deputy Prime Minister
US and EU
Sergei Glazyev
Adviser on Ukraine policy
US and EU
Sergei Mironov
Member of Russian Parliament
US
Dmitry Kozak
Deputy Prime Minister
US and EU
Ludmila Shvetsova
Deputy Chair State Duma
EU
Sergei Chemezov
Director of Rostec (state high-technologies division)
US
Others
Bank Rossiya
Russian bank
US
Dmitry Kiselyov
State television news anchor
EU
Meanwhile, a US journalist who was kidnapped and held hostage for several days last week by pro-Russian activists has been speaking to the BBC.
Simon Ostrovsky said he was pulled out of his car at a checkpoint in Sloviansk.
"I was separated from my other colleagues and taken down into the basement, blindfolded. I had my hands tied behind my back. I was thrown on the floor and beaten up and held there for the next three days," he said.
But he said he was unable to confirm any of those involved were from Russia.