100 Women: Conference in full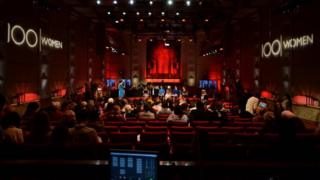 On 25 October 2013 a unique group of 100 Women from around the world gathered in London for an ambitious day of debate and discussion at the BBC's Broadcasting House.
Guests included politicians, campaigners, actors, artists, and leaders from the fields of faith, business and technology, all spending the day alongside others whose work does not make global headlines.
The mix ensured a day of lively discussion, every moment of which was streamed live online, with much of the day broadcast on BBC World News TV and BBC World Service radio.
We have collated all the day's debates and sessions here on one page so you can catch up with what went on.
Let us know what you think and continue the conversation by using #100Women on social media.
0900 BST: Opening address
0930-1000: Global Gender Gap Report 2013
1000-1100: Spying, Syria and the Roma
1100: Martina Navratilova on breaking boundaries
1110-1130: Feminism in the 21st Century
1200-1300: The Big Ideas
1330-1400: Women in the media
1400-1430: The glass ceiling debate
1430-1500: The science and technology problem
1500-1600: Motherhood and equality
1600-1700: Faith and feminism
Closing address: Sigridur Maria Egilsdottir