#100Women conference: The schedule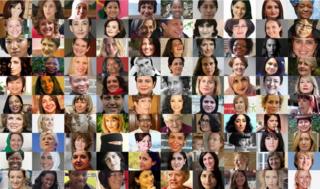 Today's 100 Women conference at the BBC brings together women from all around the world for a day of debate, discussion and live broadcasting from the BBC Radio Theatre.
You can follow every minute of the event on our special 100 Women website, with special programmes and coverage on BBC TV and radio in the UK and internationally.
And you can join in on social media by using the hashtag #100Women - we'll be using your tweets and posts in the conference as the day goes on.
The schedule (all times London: GMT+1)
0930 Opening and welcome from hosts Shaimaa Khalil and Rupa Jha, followed by address from Zeinab Bangura, UN special representative on sexual violence in conflict.
1000-1100 News debate: issues of the day up for debate, including Syria and the Roma. Presented by Chief International Correspondent Lyse Doucet.
1100 Address by Martina Navratilova, 18-time Grand Slam singles champion
1110-1130 Debate: Feminism and the modern world. Presented by Jane Hill
1130-1200 HardTalk live - Zeinab Badawi interviews Italian Foreign Minister Emma Bonino
1200-1300 The Big Ideas: Members of our 100 Women give their pitch for the future, and the women debate their ideas. Presented by Lyse Doucet
1300-1330 Lunch break
1330-1400 Debate: Does the media represent women fairly? Presenter: Razia Iqbal
1400-1445 The glass ceiling, economic empowerment, women in tech. Presenter: Lucy Hockings
1500-1600 Debate: Is motherhood a barrier to equality? Should women accept this? Presenter: Nuala McGovern
1600-1700 Debate: Can you be a follower of one of the main religions and still be a feminist? Presenter: Chloe Tilly
1700-1730 Keynote speech and close - Sigridur Maria Egilsdottir