Dozens die in bomb attacks in Baghdad and northern Iraq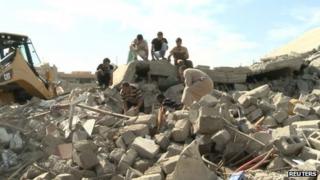 More than 60 people have been killed in a series of bomb blasts across Iraq, with dozens more injured.
At least nine attacks hit mainly Shia areas of Baghdad as Iraqis were celebrating the Eid al-Adha holiday.
Earlier a suicide bomb in Mwafaqiya, a village inhabited by the Shabak minority near the northern city of Mosul, killed at least 15.
No group has said it carried out the attacks, which come as violence in Iraq reaches its highest level since 2008.
Correspondents say the failure of the Shia-led government to address the grievances of Iraq's Sunni Arab minority - which complains of being excluded from government jobs and senior posts and of abuses by security forces - has driven the surge in unrest.
Car bomb attacks took place across Baghdad province after sunset, as families were heading for parks and restaurants, police said.
At least 44 people died in the blasts, which took place in several mainly Shia areas, including New Baghdad in the south-east, Sadr City in the east, and Husseiniyah.
The authorities said three people also died in the mainly Sunni neighbourhood of Shurta, when a car exploded in a commercial area.
In northern Iraq, police said three people were killed in a suicide attack inside a cafe in Tuz Khormato, about 200km (125 miles) north of Baghdad.
But the biggest attack took place in Mwafaqiya, in Nineveh province, where 15 died and at least 52 were wounded when another vehicle rigged with explosives detonated in a residential area.
The region, near the Syrian border, has a large Sunni population and sizeable ethnic minorities, including the Shabak, and al-Qaeda is active there.
The UN envoy to Iraq, Nickolay Mladenov, condemned the attack on the Shabak community, who largely follow a faith considered an offshoot of Shia Islam. In a statement he called for an end to the violence.
"The recent rise in violence in the Nineveh province calls for urgent action and strengthened security cooperation" between the central government and local officials, as well as with authorities in the Kurdish autonomous region that borders Nineveh, Mr Mladenov said.
Last month, a suicide bomb attack on a Shabak funeral in Nineveh killed more than 20 people.
It is part of a surge in sectarian attacks as Iraq experiences levels of violence not seen since 2008.
According to the monitoring group, Iraq Body Count, more than 6,000 people have been killed in acts of violence in the country this year.
Almost 1,000 people were killed and more than 2,000 wounded in September alone, the UN says, making it one of the highest monthly death tolls for years.