Iraq blasts near Baghdad Shia mosque 'kill at least 35'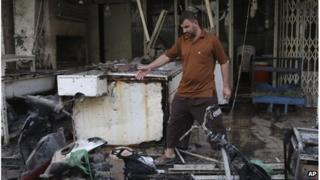 Two explosions near a Shia mosque in the Iraqi capital Baghdad have killed at least 35 people, officials say.
At least 55 others were wounded in the attack in the largely Shia district of Kasra as worshippers were leaving the mosque after evening prayers.
No-one has yet said they carried out the attack, but suspicion will fall on Sunni militants.
Sectarian violence has surged in Iraq in recent months, reaching its highest level since 2008.
More than 5,000 people have been killed and 12,000 injured since January, according to the United Nations.
Also on Wednesday, a bomb in the northern city of Mosul targeting a police convoy killed a policeman and injured three others,
The spike in deadly violence in recent months comes amid rising sectarian and ethnic tensions, triggered in April by an army raid on a Sunni Arab anti-government protest camp near Hawija.
The country has also seen a spillover of violence from the conflict in Syria, which has taken on increasingly sectarian overtones.
In recent weeks, Iraqi security forces have reportedly arrested hundreds of alleged al-Qaeda members in and around Baghdad as part of a campaign the Shia-led government is calling "Revenge for the martyrs".
But the operations, which have taken place mostly in Sunni districts, have angered the Sunni community and failed to halt the violence.