Ruth Patterson is charged over Facebook parade comments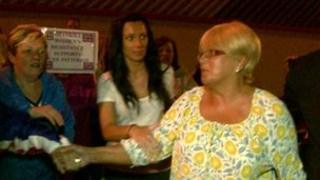 DUP councillor Ruth Patterson has been charged by police after she made comments on Facebook about a planned republican parade in County Tyrone.
She has been charged with sending a "grossly offensive communication".
On Facebook, she responded to someone else's post about an imaginary attack on the parade in which several people including Sinn Féin figures are killed.
She wrote: "We would have done a great service to Northern Ireland and the world." She later apologised.
'Sensationalist'
The DUP has criticised her arrest and said they would raised the issue with the chief constable.
Mrs Patterson, 57, is due to appear in court to answer the charge on 22 August.
She was arrested on Friday morning and was released from a police station in south Belfast at about 22:25 BST.
A crowd of about 30 supporters had gathered outside Musgrave police station while she was being questioned, holding signs calling for her release.
The DUP had described her arrest as "sensationalist".
In a statement, the party said: "Councillor Ruth Patterson has apologised for her remarks, accepted they were well below the standard expected of a public representative and not in keeping with the DUP's values and ethos.
"The party officers also emphasised the unacceptable nature of these stupid and obnoxious comments and will conclude its own internal investigations.
"We fail to understand why the police chose to conduct a sensationalist arrest rather than contact Ruth and ask her to attend an Article 10 voluntary interview. This is a matter we will be raising with the chief constable."
'Grossly offensive'
In response, police said that when a report is made to them "regarding information posted on social media sites, officers will investigate and where a criminal offence has occurred, appropriate action will be taken".
Earlier on Friday, the police said the public order inquiry team had "arrested a 57-year-old female in relation to offences concerning the sending of grossly offensive communications and other serious criminal offences in relation to intimidation and encouraging criminal acts".
In her apology, Mrs Patterson said her comments were "completely incompatible with the polices of the Democratic Unionist Party and what is expected of me as an elected representative".
Mrs Patterson is a former deputy lord mayor of Belfast.
'Restrictions'
The Castlederg parade, planned for 11 August, commemorates Tyrone's republican dead, including two IRA members killed by their own bomb in 1973. The march is backed by Sinn Féin.
However, unionists have described the parade as "grossly insensitive" and say it should not be allowed to go ahead.
On Thursday evening, the Parades Commission ruled the Castlederg parade could take place, but it placed restrictions on the march, re-routing it away from a war memorial in the Diamond area of the town.