Bomb threats on Twitter made against female journalists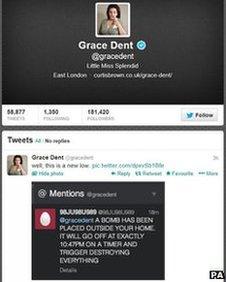 Police are investigating bomb threats made on social networking site Twitter against several female journalists.
Guardian columnist Hadley Freeman, Independent columnist Grace Dent and Time magazine's Catherine Mayer all said they had been threatened.
Anonymous account-holders tweeted that bombs had been placed outside their homes, primed to explode at 22:47 BST.
Twitter said it planned to make reporting abuse easier after an MP and campaigner received rape threats.
MP Stella Creasy and feminist Caroline Criado-Perez, who successfully fought for a woman's face to be pictured on £10 bank notes, were targeted last weekend.
Sara Lang, a social media manager for US-based campaign group AARP, said she too had received a bomb threat, but police in Washington DC had since confirmed that her house was safe.
Freeman, who had earlier published a column entitled "how to use the internet without being a total loser", reported the threats to the Metropolitan Police.
The anonymous author of the tweet had "failed to understand my column", she wrote.
An investigation into the threats, which make the tweeters liable to be arrested, was then launched, a Met spokesman confirmed.
The anonymous accounts have since been suspended, but screen grabs of the tweets have been circulated on the social media site.
Ms Mayer said she had been tempted to ignore and delete the "not very credible-sounding" tweet.
But the police advised her, Ms Dent and Ms Freeman not to stay at their homes overnight and had searched her building for suspicious devices, she told BBC Radio 4's Today programme.
Ms Freeman remained home as she "did not think it was worth taking that seriously".
She explained there was no rationale for why she was targeted, adding: "There's some kind of assumption that you have done something, that you must have written something particularly controversial...
"My great crime is that I'm a woman with some small amount of public profile - that is enough it seems."
The incidents follow rape threats directed at Ms Criado-Perez and Ms Creasy, which led to the separate arrests of two men - a 21-year-old in the Manchester area and a 25-year-old in South Shields.
Both were bailed after being questioned in connection with harassment offences.
Meanwhile, Twitter representatives could be called to face questions from the influential Culture, Media and Sport Committee of MPs in the autumn about how it tackles such issues, chairman John Whittingdale said.
The company's director for trust and safety, Del Harvey, said the website did not hold information to reveal where a message had been sent from so could not identify the correct local police force.
But Ms Freeman added: "Threatening to bomb and rape people is illegal. We need to apply the law in the same way online as we do in the real world.
"There should be a button to report abuse more easily. Twitter makes millions - they can afford some moderators."
There is already a "report abuse" function on the iPhone app version of the micro-blogging site and Twitter has said it plans to bring it to other phones and platforms.