China: Friend or foe? Ask John Simpson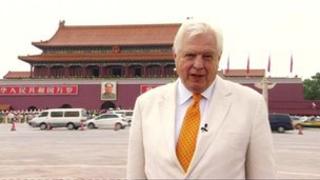 In the latest of our special Q&A sessions, John Simpson, World Affairs Editor for BBC News, will answer questions about his recent interview in Beijing with China's Foreign Ministry Spokesman, Hong Lei.
Hong Lei is one of China's senior officials - and it is the first time in at least 20 years that the BBC has conducted an interview with such a high political figure in Beijing.
People worry that China, which is still notionally Marxist-Leninist, will use its huge economic power to threaten liberal Western values.
In this Q&A John will take your questions on whether China is the West's enemy or its friend, and share his views on how the country is being shaped by its new leadership. He will also answer questions about his career in journalism.
The session will be on the BBC Have Your Say Twitter account today between 1400 and 1500 GMT (1500-1600 BST).
If you have questions for John you can tweet them, or get in touch by any of the other ways listed below.
Here are the ways you can take part:
Text your question, beginning '#AskJohnSimpson' to 61124 (in the UK) or +44 7624 800 100 (outside the UK).
When it's over, we'll publish the questions and answers featured in the Twitter session on this page of our website.
Although John will try to answer as many questions as he can, he won't get to all of them.
Questions will be tweeted immediately before the answer, and might therefore be edited for brevity.
Thank you for your questions. Here is an online version for you to look at. China: Your questions to John Simpson