Italian ex-PM Berlusconi sentenced in Ruby sex case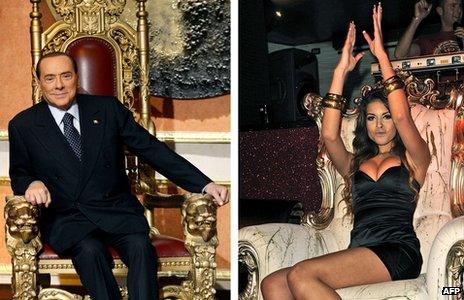 Italy's former PM Silvio Berlusconi has been sentenced to seven years in jail and banned from public office for having sex with an underage prostitute, and abuse of power.
But Mr Berlusconi remains a free man while he appeals against the ruling.
Both the 76-year-old media tycoon and the Moroccan woman concerned, Karima El Mahroug, deny they had sex.
"I intend to resist this persecution because I am absolutely innocent," Mr Berlusconi said after the verdict.
He is already embroiled in several other court cases. In October 2012 he was given a four-year sentence for tax fraud, which is also under appeal.
This latest verdict ends a two-year trial which has frequently made the headlines, with its allegations of topless women and erotic party games.
Mr Berlusconi was convicted of paying for sex with Ms El Mahroug, known as "Ruby the Heart Stealer", in 2010, even though she was 17 at the time.
He was also found guilty of abusing the powers of his office, by arranging to have Ms El Mahroug released from police custody when she was detained in a separate petty theft case.
Ms El Mahroug was one of a group of women invited to Mr Berlusconi's private residence for so-called "bunga-bunga" party evenings.
Mr Berlusconi insists the alleged sex parties were actually dinners where female guests performed "burlesque" dancing.
The prosecution said the women were part of a prostitution system set up for his personal sexual satisfaction.
Although frequenting prostitutes is not a crime in Italy, having sex with one who is under the age of 18 is an offence punishable by a prison sentence.
The sentence imposed by the Milan court is one more year than the six-year term demanded by the prosecution.
As soon as he heard the verdict, Mr Berlusconi's lawyer Niccolo Ghedini announced an appeal.
"This is beyond reality," Mr Ghedini told reporters outside the court. "The judges even went beyond the prosecutors' request."
But Mr Berlusconi will not have to spend any time in jail unless the lengthy appeals process is exhausted.
Even then he may escape prison because of lenient sentencing rules for people over the age of 70.
The judgement could have major political repercussions for Italy, analysts say.
The guilty ruling could weaken current Prime Minister Enrico Letta's coalition government, which depends on the support of Mr Berlusconi's centre-right party, People of Freedom (PdL).
Despite Mr Berlusconi's statements of loyalty to Mr Letta, many analysts believe he could withdraw his support if he decides the government is not giving him enough protection.