Troubled path to talks with Taliban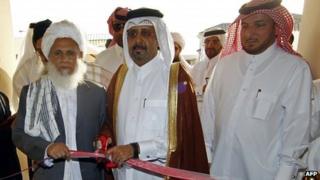 After years of secret negotiations, an historic breakthrough in talks with the Afghan Taliban almost came unstuck over a flag and a sign.
But by the end of Wednesday, and a personal intervention by US Secretary of State John Kerry, the Taliban flag and their sign reading "The Islamic Emirate of Afghanistan" were removed from their new office in the Gulf state of Qatar.
After hours of mounting tension, Afghan President Hamid Karzai's spokesman Aimal Faizi told me the president now "wanted to get the wheels moving again."
But as much as symbols matter, the substance of any future talks matters far more. Off the record conversations with a number of people involved in the sensitive dialogue that led to this milestone underline continuing uncertainty over what the Taliban leadership is hoping to achieve.
"It's still not clear whether they are interested in sharing power, or just taking power again," reflected one source who has been engaged in this process for many years.
Another spoke with more cautious optimism about "frank and productive talks," and "changes in rhetoric" that suggested new thinking among the Taliban, who enforced a strict and harsh interpretation of Islam during their rule in the 1990s.
'Prickly paranoia'
The row over symbols served to highlight how a movement that once banned television understood the importance of projecting a certain message. For example, the words on the sign, "The Islamic Emirate of Afghanistan," were those they used to describe their regime that was eventually toppled in 2001.
For President Karzai, long suspicious that the Taliban office would be used as base for a "government in waiting" to raise its profile and its fund raising, it only confirmed his worst fears about the Taliban, and his ally, the United States.
On Wednesday, he suddenly suspended bilateral security talks with the US, and called off a planned trip to Qatar by his negotiating body, the High Peace Council.
"President Obama had given us written assurances this would not happen," explained Aimal Faizi. He also pointed out that there had been more than a month of intense discussions, in person and over the telephone, between senior Afghan and American officials to ensure misunderstandings did not arise this time.
Not long before the announcement, President Obama himself called the Afghan leader to ensure he was fully informed of the expected breakthrough.
On more than one occasion in the past, President Karzai has scuppered imminent deals, accusing the US and other countries of trying to undermine his authority and his country's sovereignty. Some Western officials, with barely concealed frustration, often dismiss what they see as a prickly paranoia. But in this latest upset, the president's anger seemed justified.
In recent months, the Afghan leader has also been invited to Doha, as well as the Norwegian capital Oslo, to discuss ongoing negotiations.
The ribbon cutting ceremony at the office on Tuesday came after months of renewed effort involving key roles for Norwegian and British envoys, as well as Qatari officials and Pakistan's Inter Services Intelligence (ISI) agency. German diplomats played a vital a role at earlier stages of the protracted process.
One source said the ISI, which is known to exercise influence over many Taliban commanders, "did what it had to do" to get the talks moving again in Doha.
Sticking points
After months of silence that followed the Taliban suspension of negotiations with the US in March 2012, a new push was made at the end of last year to revive an initiative that has been in the making since 2011.
Western diplomats also pressured Qatar to make more of an effort to encourage those Taliban who settled in Doha some time ago - at Qatari expense - to return to negotiations about an office.
Diplomats also wielded the UN sanctions list to highlight how some of the Taliban travelling freely were actually still on a black list.
But the US also held out sweeteners too. After insisting since the start on what one American diplomat conceded was an "unrealistic demand" for an explicit statement from the Taliban, Washington dropped its pre-conditions which required a written commitment to renounce terrorism and links to Al Qaeda, accept the Afghan constitution, and agree to talk to the Afghan government.
Instead, the Taliban spoke of not allowing their soil to be used to threaten other countries, and expressed a commitment to try to find a "peaceful solution to the occupation."
One source engaged in talks said the demand for direct talks with the Afghan government "has been a sticking point all the way through." He said: "We think they will agree on this but it is difficult for them to spell it out."
Another problem for the negotiators has been to establish whether their main interlocutor, Tayeb Agha, still had the authority conferred on him by the Taliban leader Mullah Omar. Reports last year spoke of power struggles within the Taliban's political office, and Tayeb Agha was reported to have been sidelined. But sources say he is playing a central role again.
Recent talks, which have not included direct American participation, are also said to have involved wide ranging discussions on issues including the constitution, human rights, the role of women. "We definitely did not agree on everything," said one Western official who also highlighted that there are still more hard-line elements outside this process.
Prisoner controversy
American officials say they expect the Taliban's first goal, when direct talks resume shortly with the US, will be to obtain the release of five Taliban prisoners at Guantanamo Bay.
In exchange, they are to free the only US soldier believed to be in captivity, Bowe Bergdahl. It is understood he is being held by the group known as the Haqqani network, whose representatives have also been involved in negotiations.
But this issue is already stuck in the tangled web of US politics. When talks took place in 2012, headed by the then US Special Representative Marc Grossman, leading Republican senators balked at releasing the Afghans.
The Pentagon is said to be still opposed while President Obama backs a deal.
Significant questions and concerns still hang over a tortuous process that will sit alongside continuing bombings and military battles on the ground.
But for the moment, there is a long awaited window to open a channel of negotiations that will, at the least, give departing US-led Nato troops some political cover as they prepare to pull out most of their troops.
But that window will only remain open so long as President Karzai, and other key players, do not do everything in their power to shut the door of the office if it seems to be moving in the wrong direction.