World's media lament decline in freedom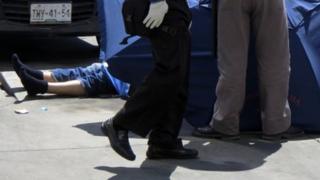 Media outlets and advocacy groups mark the 20th anniversary of World Press Freedom Day with complaints about what they see as a decline in the level of press freedom over the past year.
Some point to increasing dangers faced by journalists and new reporting restrictions, such as those recently introduced in Russia.
The proportion of the world's population living in societies with a fully free press has fallen to its lowest level in more than a decade, according to a report by the Washington-based advocacy group, Freedom House.
It says an overall downturn in global media freedom in 2012 was punctuated by a dramatic decline in Mali, a deterioration in Greece, and a further tightening of controls in Latin America.
Seven international broadcasters, including the BBC, meanwhile condemn challenges to what they describe as their "legitimate role" in offering free access to global media and coverage of events.
Alongside the blocking of internet services and cyber attacks, they highlight the deliberate jamming of both satellite and shortwave radio transmissions as part of a "concerted campaign of disruption" not seen since the end of the Cold War.
"Incompatible with progress"
Some newspapers bemoan a disparity between constitutional rights and the actual restrictions they face. Hong Kong's South China Morning Post (SCMP) recalls an incident in January when a censor was alleged to have changed the headline and content of an editorial in the Southern Weekly newspaper without informing staff, prompting them to go on strike.
"Censorship is incompatible with progress towards a genuine advanced industrial economy," the SCMP says. "If China insists on holding back public debate, whether on web forums or in its press, it is likely that its phenomenal progress will stall."
Burma officially marked its first World Press Freedom Day after relaxing censorship and formally abolishing its censorship board earlier this the year.
The United Nations Educational, Scientific and Cultural Organisation (Unesco) - which set up World Press Freedom Day in 1993 - said Burmese Deputy Information Minister U Soe Win stressed journalists' right to present a diversity of views and positions based on what he called the "national interest".
"The national interest doesn't mean protecting the government in office. The emergence of genuine democracy... national reconsolidation and restoration of ethnic unity... are our common ground or in other words the national interest," he was quoted as saying.
Yet Burma's newly independent press, which has only been publishing since 1 April, is still subject to what some see as self-censorship. Reporters are no longer required to submit their draft articles to the government censor before publication, but they still must be submitted for scrutiny after publication.
'Rapid decline' despite war's end
Sam Wijesinghe, the head of the Dispute Resolution Council in Sri Lanka's Press Complaints Commission, said press freedom was "decreasing rapidly" even though the country's civil war was over.
"In the past, attacks on the media were tolerated for the sake of national security - when the war was going on - however today... things are much worse," he was quoted as saying by Sri Lanka's Daily Mirror.
'Protecting society'
In the run-up to World Press Freedom Day in Russia, President Vladimir Putin firmly rejected accusations that his government was ramping up censorship, insisting that society had the right to protect itself against "child pornography, drug-trafficking and suicide".
But critics say new Russian laws constitute a serious infringement of the rights to freedom of expression and information.
'We've got used to it'
In Latin America, a writer in Mexico's Reforma newspaper laments what she calls the "intimidation" of journalists and urges people not to be apathetic.
"The period of intimidation, assaults against the media, and murders of journalists has been going on for too long," she says. "One of the main problems is that we have got used to it... We must insist that attacking the freedom of expression and the press is violating the fundamental rights and freedoms of the whole of society."
Her view is echoed by El Heraldo in Honduras, which says journalists face "great pressure" from the country's government.
"The media, journalists and the Honduran people in general are under the real threat of losing a fundamental human right, the basis of many other rights and of democracy itself: freedom of expression. It is impossible to achieve this without the independent media."
Another commentator in Costa Rica's La Nacion notes that the suppression of journalists is an inevitability.
"It is necessary to understand that the role of journalists is to say what others do not want you to know and that they will sooner or later try to stop it using the laws or force," she writes.
Journalists in prison
The Committee to Protect Journalists (CPJ), an international advocacy group, meanwhile urges the African Union (AU) to uphold freedom of the press.
''We ask that you mark World Press Freedom Day by calling for the release of all journalists imprisoned in Africa and appealing for justice in the murders of journalists killed in the line of duty,'' says an open letter to Nkosazana Dlamini Zuma, chairperson of the African Union Commission.
In Kenya, the Daily Nation reports that the country has been ranked by the advocacy group, Reporters Without Borders, as the second most popular refuge for journalists fleeing persecution, after the UK.
Kenyan papers welcome President Uhuru Kenyatta's pledge to safeguard press freedom under a revised media and information bill, but a commentator in the Daily Nation says journalists there are still vulnerable.
"Widespread harassment, intimidation and arbitrary arrest of journalists continues. Governments must commit to do more to protect journalists," the Daily Nation adds.
BBC Monitoring reports and analyses news from TV, radio, web and print media around the world. For more reports from BBC Monitoring, click here. You can follow BBC Monitoring on Twitter and Facebook.