Margaret Thatcher demo police officers injured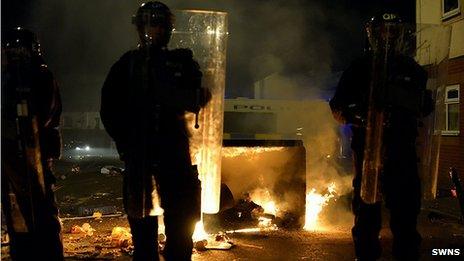 Seven police officers were injured when violence flared at a gathering in Bristol to celebrate the death of Baroness Thatcher.
Police were called to Chelsea Road, Easton, shortly after midnight where about 200 people had gathered.
Protests were also held in Brixton, south London, by people who said they were celebrating.
Stephen Williams, the Liberal Democrat MP whose constituency covers Easton, condemned the gathering.
"Margaret Thatcher was a very divisive figure in politics, but nonetheless to organise some celebration for someone who was a mother and grandmother is not appropriate.
"The best way to deal with her legacy is by democratic discussion not by holding a completely inappropriate celebration of her death at a very old age," he said.
Bristol's independent Mayor George Ferguson said the gathering was in "thoroughly bad taste".
"There are strong feelings about Margaret Thatcher but I think it's in very bad taste to be dancing on her grave and it's a shame this should have happened in Bristol," he said.
Tony Blair has also criticised people who held parties to "celebrate" the death of Baroness Thatcher, saying they were in "pretty poor taste" and urged critics of his Conservative predecessor to "show some respect".
Local Labour and Conservative politicians in Bristol have yet to comment.
The gathering of about 150 people in Brixton - the scene of fierce riots in 1981 - attracted a heavy police presence and led to small scale acts of vandalism and graffiti.
Some scaled the nearby Ritzy Cinema and displayed banners. There were no arrests and no serious injuries, police said.
Residents and police in Bristol said the event started peacefully, but by about 22:30 BST 150 to 200 people had gathered.
Ch Insp Mark Jackson, of Avon and Somerset Police, said: "They had set fire to bins and had loud music playing and were being generally quite unruly.
"As you can imagine, the residents were quite upset by this and wanted something done about it."
"They were asked by officers to end the party and turn the music off but that unfortunately just led to hostilities and officers were pelted with bottles and cans."
The force said one person was arrested on suspicion of violent disorder.
Chief Constable Nick Gargan tweeted: "Huge admiration for the officers who dealt so well with a violent crowd in Bristol last night. Some injuries, but thankfully nothing serious."
Lady Thatcher, Britain's first female premier, was Conservative prime minister from 1979 to 1990 and won three successive general elections.
She died after suffering a stroke while staying at the Ritz hotel in central London.
Her funeral is to be held on 17 April, Prime Minister David Cameron has announced.
Related Internet Links
The BBC is not responsible for the content of external sites.