Fukushima nuclear plant: Cooling system power restored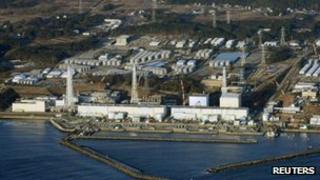 Power has been restored to part of the cooling system at Japan's tsunami-hit Fukushima nuclear plant, after it failed for the second time in a month.
The breakdown was not thought to pose any immediate danger, operator Tokyo Electric Power (Tepco) said.
An alarm at reactor number three earlier revealed the system had stopped at one of the pools containing spent, but highly radioactive, fuel rods.
Last month a power cut shut cooling systems for four spent fuel ponds.
The ponds cool the fuel - which generates intense heat - and provide shielding from radiation. The spent fuel remains in the ponds for a year or more.
Friday's breakdown at the Fukushima Daiichi nuclear plant lasted around three hours, Tepco said.
Officials discovered the system failure after an alarm sounded at reactor number three.
As of 14:00 local time (05:00 GMT) on Friday, the temperature of water inside the cooling pool at reactor 3 was 15.1C, well below the safety limit of 65C, Tepco said.
This indicated that the spent fuel remained stable and did not pose an immediate danger to the environment, news agency AFP quoted Tepco as saying.
The power cut last month shut down cooling systems for four spent fuel ponds at reactors 1, 3 and 4, although cooling for the reactors themselves was not affected.
The company said a rat had damaged the electrics, causing a short circuit in a switchboard and triggering the power cut.
On 11 March 2011, an earthquake and tsunami crippled the plant. Waves knocked out cooling systems for the reactors, leading to meltdowns at three of them.
Engineers have since stabilised the plant but years of work lie ahead to fully contain the disaster and tackle its effects.
Tens of thousands of evacuees remain unable to return home.