Retail sales bounce back in February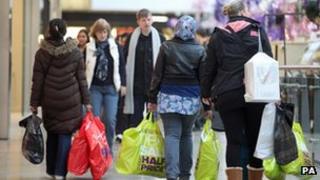 Retail sales rose 2.1% in February compared with January, when bad weather was blamed for keeping sales low.
The Office for National Statistics said the rise was thanks to sales in computers and technology, and goods bought online.
Sales were up 2.6% compared with February last year. British consumers spent a total of £6.3bn a week.
The sales bounce confirms figures released by the British Retail Consortium earlier this month.
They reported sales up 2.7% year-on-year in February.
The ONS figures show that sales grew by both volume and value.
In the last 12 months, the price of goods sold in the retail sector rose by 0.7%.
Alan Clarke, an analyst at Scotiabank, said: "Retail sales were strong probably because prices were low. And when there are smaller-than-normal price increases in things like clothing, people spend more, so that's understandable.
"Will it avoid a triple dip [recession]? I doubt it. It just makes it a closer call."