Alice Walker - honouring truth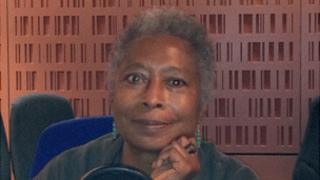 She speaks softly and takes a hard look at life.
But Alice Walker always lives with hope.
"The more you honour truth, the more hopeful you can be," the acclaimed author and activist told me when she came into our BBC studios.
In an interview to mark a documentary about her life - Alice Walker, Beauty in Truth - she hailed the "awakening on the planet about insisting on truth as the guide".
Truth for Alice Walker was enshrined in her 1982 Pulitzer Prize winning book The Color Purple, where she wrote powerfully about a troubled young black woman fighting against a racist and patriarchal culture.
For her and many others, President Barack Obama's historic rise to the White House was a hopeful moment, but for her, an all-too-fleeting one.
"He charmed me, he held out a wonderful vision of a different way," she remarked wistfully, and then broke into a smile. "I was naive," she remarked.
"He and his family are visually beautiful," she explained. "But it's not so good to watch the continuation of policies we deeply disagree with."
She singled out the use of deadly weapons, including drone warfare, that she described as criminal.
In Alice Walker's view, the president "listens to bankers, not to us, the masses... the women, children and poets".
Do listen to my interview here with Alice Walker, a passionate poet, on Newshour on the BBC World Service.