International Women's Day: The women who inspire you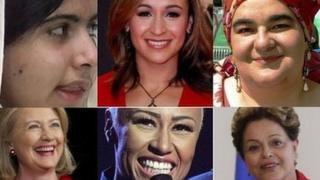 International Women's Day is an opportunity for the world to celebrate women and their achievements.
The first Women's Day was held in 1909 in the United States. In 1911, International Women's Day (IWD) was marked for the first time in Austria, Denmark, Germany and Switzerland.
International Women's Day is now celebrated each year on 8 March in countries across the globe.
BBC News website readers have been sharing their stories of women who have inspired them.
John Wigmore, Saudi Arabia
The woman who inspired me: My mother, May Hewlett.
"She was a remarkable woman.
She was only a teenager when she set off on an epic journey. However, she never saw being a woman as an impediment.
In 1939, aged 19, she set off from South Wales to see France and Italy with her friend Audrey.
They had places at teacher training college in Leeds but wanted to travel first.
They had only the smallest knapsacks and limited funds, and were travelling by train and bus.
They had to turn back after six weeks because war broke out and it was too dangerous.
As well as being adventurous she was a fantastic mother.
She had her first child when she was 27-years-old, and went on to have nine more. After having her children, she then went back into teaching.
I always remember her with a smile on her face."
James Britton, Long Riston, UK
The woman who inspired me: My late wife, Maria.
"Maria was such a vital and vibrant part of everything she did - and she did such a lot.
She gave years of her life to various aspects of community life, especially those involving school and family events.
Maria inspired so many with her kindness, her listening, and her sense of humour. She was a great leader as chair of the Parents, Teachers and Friends Association, and she also ran the craft club at the village school.
Beyond that, she was the most loving mother bringing up four special children.
She bravely fought cancer but lost the fight on 26 November 2012 after 11 months.
My wife is my inspiration. I love and miss her."
Eve Singerman, Tel Aviv, Israel
The woman who inspired me: My grandmother, Susan Singerman.
"As a holocaust survivor, my grandmother lived through inconceivable horrors.
She fought hard against racism and persecution throughout her life, and spoke to thousands of young people in schools about her experiences.
She was determined that an understanding of the past was vital to ensure the holocaust would never happen again.
The woman I knew was strong, funny and clever.
She valued art, literature, learning and her family. She vowed that the Nazis would not destroy her humanity.
She was a wonderful grandmother."
Devang Chordia, Chennai, India
The woman who inspired me: Mohini Chordia, my mum.
"My mother is a social worker and always helping others.
She was the president of Rotary Inner Wheel Club and was responsible for carrying out projects in a cancer ward. She has also worked with polio patients.
She is a very motivating person.
She is currently serving in various committees in schools and colleges across Chennai, Tamil Nadu.
As well as helping people in the community, she is a great mother. She is very supportive and always has been."
Rebecca Leach, Reading, UK
The woman who inspired me: My colleague, Clare Hartley.
"Clare was the road events general manager for the Olympic Games in London 2012.
She was always one of the first in the office and the last to leave in the years leading up to the Games.
If it wasn't for her commitment and determination to deliver outstanding events on the roads during the Olympics, the people watching by the roadsides and on TV wouldn't have enjoyed the spectacle that these events were.
The best thing about Clare is that she doesn't make a big thing about it and is always smiling.
She has received very little recognition for the work that she put into the Olympics and I would like this to change."
Theresa Floyd, Raumati Beach, New Zealand
The woman who inspired me: My friend, Dr Jean White.
"We first met and worked together as junior staff nurses on a course in London in 1983. We have remained friends, even though I now live in New Zealand.
I have always admired her dedication to education and how she has given back to her colleagues in the nursing profession.
Through my nursing career she always managed to 'shine a light' when I had difficulties during my course.
She has an incredible knack of giving clarity to a situation and inspiring you to go on.
I am incredibly proud to have a friend like Jean."