Mali: French soldier killed fighting Islamists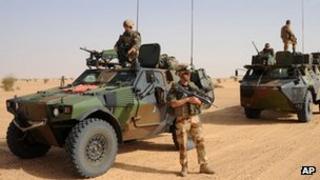 A French soldier has been killed fighting Islamist rebels in Mali, President Francois Hollande has said.
More than 20 militants also died in the clashes in a mountainous northern region, France's defence ministry said.
It is France's second fatality in Mali since it began its military intervention there last month.
French troops backed by helicopters and planes have helped restore government control of northern Mali, killing hundreds of suspected militants.
"There was a serious clash with many dead on the terrorist side but also a death on the French side," Mr Hollande said during a visit to Greece.
'Last phase'
He said the soldier from the French Foreign Legion was killed as special forces hunted militants hiding in the Ifoghas Massif - a remote mountain region in the Sahara.
The continuing mission was aimed at capturing "the last terrorist groups and leaders," Mr Hollande added.
"We are now in the last phase of the operation in Mali," he said.
France intervened in Mali just over a month ago to stop Islamist militants who had taken control of northern Mali from advancing on the capital, Bamako.
French forces helped government troops recapture the main north cities and towns, and thousands of soldiers from African countries have also been deployed.
Previously the only French fatality was a helicopter pilot killed on the first day of the military intervention, 11 January.