East Midlands Airport shut by Spitfire undercarriage collapse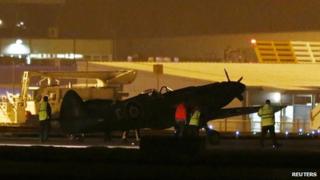 East Midlands Airport was closed for two hours after a Spitfire's undercarriage collapsed as the plane was coming in to land.
The pilot was not injured but the runway was closed while debris was cleared away.
Flights to East Midlands Airport were diverted to Birmingham during the closure.
A spokesman for East Midlands Airport said the aircraft had been removed from the runway and all flights had resumed.
Edward Coxon, from Hartshorne in Derbyshire, who was plane-spotting at the airport at about 15:30 GMT, said: "I was just looking at the planes coming in when all of a sudden there were loads of blue lights coming in from the other end of the runway.
"That's when I saw the plane in the middle of the runway. I could hear on the radio that there was only one person on board and he was fine."
The World War II Spitfire belonged to Rolls-Royce, which is based at the airport site in Castle Donington.