Nepal torture suspect held by Metropolitan Police
By Dominic Casciani
Home affairs correspondent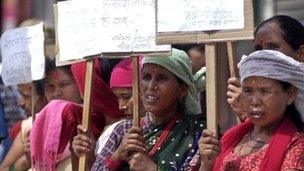 A man has been arrested in the UK on suspicion of committing torture during the civil war in Nepal in 2005.
Metropolitan Police officers arrested the 46-year-old man in St Leonards-on-Sea, East Sussex, on Thursday.
The BBC understands that the suspect is linked to the former government in Nepal and that police are acting on a complaint made in the UK.
The Met is the UK force responsible for investigating accusations of war crimes or human rights abuses.
In a brief statement, the Metropolitan Police said the man remained in custody in a police station in Sussex. Officers are conducting searches at the residential address where the man was arrested at 07:19 GMT.
Nepal's decade-long civil war, which ended in 2006, led to allegations of human rights atrocities against both the army and Maoist rebels.
The investigation is linked to very serious allegations of torture made by an individual who is in contact with human rights campaigners in Nepal and a law firm in London. The individual says he was tortured by state agents to extract information during interrogation.
In a brief statement released through the solicitors, Hickman Rose, the alleged victim said: "I trust that the British system will deliver justice; something I was not able to get in my own country."
The man who is being held on suspicion of torture was arrested under Section 134 of the Criminal Justice Act 1988 and the investigation is being led by officers from the Metropolitan Police's Counter Terrorism Command. There are nine detectives at Scotland Yard who specialise in investigating war crimes, alongside their other duties.
The rarely-used 1988 war crimes and human rights abuses law is known as a "universal jurisdiction" offence. It permits the UK to arrest and prosecute people accused of human rights abuses committed overseas, even if the crime is not connected to events in the UK. The investigations rarely reach trial because of the difficulties detectives face in gathering sufficient evidence to put before a jury.
War crimes investigations are run within tight guidelines agreed between the Metropolitan Police and the Crown Prosecution Service. Officers must secure corroborating evidence in the UK before a prosecution becomes possible. The proposed prosecution must also be approved by the Attorney General.
The only successful prosecution in the UK under the 1988 law occurred in 2005 when a former Afghan warlord, hiding in south London, was jailed for 20 years. Faryadi Zardad, who was living in Streatham at the time of his arrest, was found guilty at the Old Bailey of torture and hostage-taking in his home country.
Another man, accused of Nazi war crimes, was successfully convicted in 1999 under the separate War Crimes Act 1991.