Whooping cough outbreak: Cases decreasing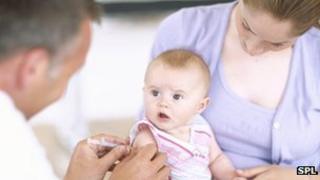 The number of people being infected with whooping cough is decreasing in England and Wales, according to the latest figures by the Health Protection Agency.
However, it is too soon to tell if the largest outbreak of the disease in two decades has peaked.
There were 1,080 new cases in November compared with 1,631 the month before.
Thirteen newborn babies have died during the outbreak leading to a campaign to vaccinate pregnant women.
There are outbreaks of whooping cough every three to four years, however this outbreak has affected 10 times as many people - 8,819 - as the last outbreak in 2008.
Dr Gayatri Amirthalingam, from the Health Protection Agency, said: "The November figures show a welcome decrease of whooping cough cases since October.
"However, it is very important to note that we usually see a reduction in cases of whooping cough at this time of year so this decrease is in line with normal seasonal patterns."
Baby deaths
Newborn babies with fledgling immune systems are the most vulnerable to the disease. They are also too young to be vaccinated - doses are given at two, three and four months of age.
It led to an emergency vaccination programme for pregnant women, between 28 and 38 weeks, across the UK. The theory is that the mother's immune system should create more antibodies to attack the whooping cough bacterium. These should pass from the mother to the child in the womb and offer protection when a baby is born.
More than 40% of eligible women had the jab in October, which health experts said was "extraordinarily good".
It is still too early to say if the measure has made a difference, however.
There were no deaths from whooping cough reported last month.
Prof David Salisbury, the director of immunisation at the Department of Health, said: "Thirteen infants have died as a result of whooping cough this year and there have been more than 400 cases of the disease in children under three months old.
"It's vital that babies are protected from the day they are born - that's why we are encouraging all pregnant women to be vaccinated."