Russian comments display bleak new resignation on Syria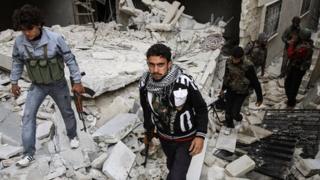 Loyalists to Syria's President Bashar al-Assad have grown used to dismissing the pronouncements of Western leaders over the past two years.
But how damaging the remarks of Mikhail Bogdanov, Russia's deputy foreign minister must be to morale in the beleaguered regime strongholds of Damascus or Latakia.
"We must look at the facts," Mr Bogdanov opined in Moscow, "there is a trend for the government to progressively lose control over an increasing part of the territory".
He added that "an opposition victory can't be excluded."
That might seem like a statement of the blindingly obvious, coming from a French or British minister, but it signals an important shift for the Kremlin.
Mr Bogadanov was saying something aloud that has been evident from Russian actions for some months: that they cannot allow their earlier opposition to strong action in the UN Security Council on the Syrian crisis to poison their future relationship with any post-Assad government or the wider Arab world.
Back in July, Sergei Lavrov, Mr Bogdanov's boss, received a delegation from the opposition Syrian National Council (SNC) in Moscow. There have been other contacts since, indicating a desire to keep channels open.
As for evacuation of the five thousand plus Russians still in Syria, Mr Bogdanov said on Thursday that plans to get them were being updated.
Russian analysts suggest that an actual order to remove its people could be the regime's death knell.
The Russians practised an evacuation through their base at Tartus in Syria several months ago, moving marines and warships to the area for the drills. A signals intelligence listening post and naval training facility at Tartus date back to Soviet times.
These tentative signs of a Russian attempt to put more distance between themselves and the Assad regime leave the embattled president more dependent than ever on Iran.
Reports continue to circulate in the Middle East that Iran has taken over paying Syrian government employees and is still flying arms into the country.
The Kremlin remains consistent on one point however, which is its oft stated desire for an orderly transition of power, ie against Mr Assad's overthrow.
It continues to speak out against the recognition of the recently organised SNC as the peoples' sole legitimate representative, something the US has just joined scores of other countries in doing.
Russia plans to host a meeting of tamer opposition groups in Moscow next week.
When President Vladimir Putin visited Turkey earlier this month, his spokesman warned, "if the al-Assad regime goes then the number of refugees flowing into Turkey would rise from tens of thousands to hundreds of thousands. Syria will turn into a lake of blood".
The Russians have tried unsuccessfully to halt the growing recognition and influence of the Turkish-backed SNC.
This new umbrella organisation for anti-Assad groups opposes the kind of dialogue with the Syrian president that Moscow has long considered necessary to allow an orderly change to happen.
Thursday's statements from Mr Bogdanov display a public resignation to the fact that Moscow's ideas for a transition of power are very unlikely to prevail.
In their recent warnings about what might follow Mr Assad's ousting, the Russians have also shown just how bleak their view is of Syria's future.