US embassy in Tel Aviv: Man held over knife and axe attack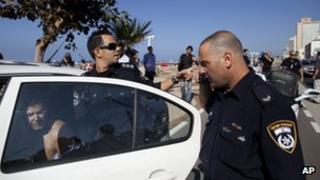 A man has been arrested after a security guard was wounded in an attack at the US embassy in Israel's commercial capital Tel Aviv.
The attack was carried out at the entrance to the embassy by a man wielding a knife and an axe.
Guards at the embassy, located close to the city's seafront, then fired warning shots in return.
An Israeli police spokesperson said that the attack was probably not politically motivated.
A witness told the BBC that a man, an Israeli in his early 40s, was engaged in an altercation with "six or seven" security guards before being wrestled to the ground.
The arrested man was uninjured, according to police.