Obama's re-election: The world reacts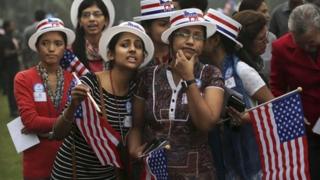 A round-up of international reaction from world leaders and key players to the re-election of Barack Obama to a second term as US president.
European Council President Herman Van Rompuy and European Commission President Jose Manuel Barroso
"The United States is a key strategic partner of the European Union and we look forward to continuing the close co-operation established with President Obama over these last four years, to further strengthening our bilateral ties and to jointly addressing global challenges, including in the fields of security and economy," they said in a joint statement.
They also "look forward to meeting President Obama at an early date in order to reconfirm our priorities and provide renewed impetus to our joint action".
French President Francois Hollande
Mr Hollande hailed President Obama's re-election as a "clear choice for an open, united America that is totally engaged on the international scene".
His victory would "once again reinforce our partnership to facilitate the return of economic growth in our countries, to fight unemployment, and to find solutions to crises that threaten us, notably in the Middle East".
German Chancellor Angela Merkel
"I have deeply appreciated our many meetings and conversations about all the issues involved in developing the German-American and the transatlantic relationship, not least in overcoming the global financial and economic crisis."
British Prime Minister David Cameron
"One of the first things I want to talk to Barack about is how we must do more to try and solve this crisis [in Syria]. Above all, congratulations to Barack. I've enjoyed working with him, I think he's a very successful US president and I look forward to working with him in the future."
Israeli Prime Minister Benjamin Netanyahu
"I will continue to work with President Obama to preserve the strategic interests of Israel's citizens."
Palestinian leader Mahmoud Abbas
"The president hopes that Obama continues his efforts to achieve peace in the Middle East," a statement said.
Egyptian President Mohammed Mursi
Mr Mursi hopes for a "strengthening of the friendship between the two countries to serve their common interests, namely justice, freedom and peace", a spokesman said.
Lebanese Hezbollah MP Hassan Hoballah
"The foreign policy of [the] US in the Middle East, and under all American presidents, was always biased in favour of Israel, regardless of who is the president, Democrat or Republican.
"The US has always stood against resistance movements in Lebanon or Palestine, and against every liberation movement aiming for independence and self-determination and development."
Iraqi Foreign Policy Minister Hoshiar Zibari
"Under the new American administration we will see an increasing of pressures [on Iran], and maybe confrontation [with Iran], but Iraq will work to ensure its national interests and its links with all sides and underlining the importance of the dialogue, Iraq will insist on resolving problems via diplomatic and peaceful ways."
South African President Jacob Zuma
"We value our relations with the United States and look forward to strengthening bilateral co-operation in the years to come.
"South Africa is confident that the United States will continue to play a positive role in this regard".
Nigerian President Goodluck Jonathan
President Jonathan "welcomes President Obama's victory in an intensely fought presidential race as an endorsement by the good people of the United States of his leadership, progressive world view and the very good work he has done in the past four years towards ending global economic depression and fostering global peace and security", a spokesman said.
Kenyan Prime Minister Raila Odinga
"Mr Obama's success is particularly resonant in Africa this morning because not only is he an African-American but the first American of immediate African descent to have not only ascended to, but succeeded in, the most powerful and challenging office in the world."
China's ministry of foreign affairs spokesman Hong Lei
"As chairman Hu Jintao said, over the last four years, China-US relations achieved great progress through efforts on both sides.
"Maintaining a healthy and steady relation between the two countries is beneficial for the two nations and peoples from both countries. This is also beneficial for the peaceful and stable development in the Asia-Pacific region and throughout the world.
"China is willing to work with the United States, focus on the future, and make more efforts to push forward China-US co-operation, to attain better development and to benefit the people of the two nations as well as the world's population at large."
The Dalai Lama
"When you were elected in 2008, you inspired the world with a call to take responsibility for the problems we face as global citizens. Since then, you have made earnest efforts to live up to that great hope and trust placed in you by the American public. I believe you have been re-elected now in recognition of that effort."
Afghanistan President Hamid Karzai
"The president of Afghanistan hopes that with President Obama's re-election, relations between Afghanistan and the United States, based on bilateral interests, are further expanded," his spokesman Aimal Faizi said.
Nato Secretary General Anders Fogh Rasmussen
"The bond between Europe and North America, based upon the shared values on which our alliance was founded over 60 years ago, remains as strong and as important to the preservation of Euro-Atlantic peace and security as ever.
"President Obama has demonstrated outstanding leadership in maintaining this vital bond."