World press considers US election campaign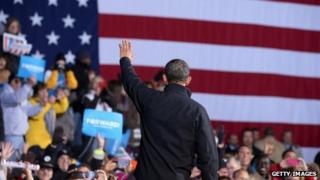 On the eve of the US presidential election, the international press took stock of the relative positions of Barack Obama and Mitt Romney.
In the Middle East, some say a Romney presidency would be tougher on Syria, but others argue it doesn't matter who wins.
The Chinese press notes that China has been a significant issue in the campaign. Some of its commentators declare a preference for a second Obama presidency, as do several papers in Latin America.
Several European papers lament the fact that Europe appears to be irrelevant to the US election campaign.
Middle East
Saudi-owned pan-Arab newspaper Al-Sharq al-Awsat
If Romney wins, then we should expect a tougher US stance on the conflict in Syria as Romney is obviously more intent on stopping Assad's killing machine.
Pro-government Egyptian newspaper Al-Akhbar
Most Egyptians are praying for Barack Obama to win... because we feel that he is less harmful.
Centrist Israeli newspaper Yediot Aharonot
People around Prime Minister Binyamin Netanyahu fear that if Obama is re-elected, he will try to undermine Netanyahu's chances of re-election in the light of his support for Mitt Romney.
Hardline Iranian newspaper Keyhan
There is no doubt that it makes no difference to Iran whether Obama is elected or Romney. It is quite clear that America's generally hostile policies towards Iran will not change.
Conservative Iranian newspaper Khorasan
Contrary to what has been said, peoples' vote in the US is not the determining and final word... the two-stage US electoral system and the two-party system have been designed to protect the interests of the ruling elites.
Moderate Iranian newspaper Arman
The Democrats have a better approach towards Iran and compared with the Republicans they have been more interested in resolving the problems... Obama is less dangerous than Mitt Romney to us.
London-based pan-Arab newspaper Al-Quds Al-Arabi
President Obama's re-election is most likely to be announced late this evening, but the American dream and the Arab dream will remain they are: that is, dreams and imagination until further notice.
Government-owned Syrian newspaper Al-Thawrah
The US election used to preoccupy the world's attention... This, however, has not been the case this time.
Asia
Lian Qingchuan on China's Sina news portal
I think that Obama will win, should win and must win... Even though Romney has all kinds of campaign promises, he is not friendly to China… He will still revive theories on geopolitical competitive strategy and opt for more alienating and limited confrontations so that the US maintains its competitive edge … Things may not get better with Obama, but they will certainly not get worse.
Editorial in Hong Kong's South China Morning Post
Obama has at least understood that Asia is where his nation needs to be focused. Romney has made contradictory statements... Most worrying is his vow to declare China a currency manipulator on his first day in office, a sure-fire way to start a trade war with a country that the US needs above all others. Extremism has no place in politics.
Zhang Quan and Wang Shaozhe in Shanghai's Jiefang Ribao (Liberation Daily)
Hype about China issues in this election has surpassed any previous general election... but the eastward shift of the US diplomatic strategic focus is not fake.
Editorial in Pakistan's Dawn
Mr Romney remains an unapologetic defender of corporate sharks, but asserts that his policies will help revive the economy, create jobs and restrict the state's interventionist role. President Barack Obama has hammered home his foreign policy achievements... But the campaign has largely revolved around domestic issues, and that's where Mr Obama is vulnerable.
Latin America
Editorial in Mexico's leftist daily La Jornada
Despite his efforts to distance himself from his fellow party member [former President George W] Bush, Romney's ideological profile leads us to believe that he would lead the country along a similar path of military interference, open support for business interests to the detriment of the people, Christian fundamentalism, and social conservatism.
Editorial in Colombia's right-leaning daily El Espectador
Obama has given his country a new dimension in the international realm and deserves a second term in order to shore up political, economic and social achievements.
Alejo Vargas in Colombia's El Colombiano
It is essential to be able to rely on the full backing of the US government and thus far President Obama has been clear and solid on this point... The Santos government is certain to be more comfortable with an administration like Obama's.
Headline in Argentina's El Cronista Comercial
The US chooses between the lottery and the devil they know.
Europe
Giuseppe De Bellis in Italy's Il Giornale
Regardless of which candidate we root for, we should take on board the fact that Europe today carries absolutely no weight in Washington. Europe has been mentioned very little during the election campaign over the past few months, and then only when someone had something bad to say about it.
Germany's Westdeutsche Allgemeine Zeitung
Neither Obama nor Romney have presented a convincing platform for the coming four years. The Americans are not electing the future in an optimistic way but in an atypical way they are only electing the lesser evil. For Europe, unlike China, this is bad news. And in the election campaign, Europe was not even mentioned.
French broadcaster RMC
It is the undecided that will make the difference.
Africa
Kenyan privately-owned newspaper Daily Nation
It used to be that what happened in the USA, and the kind of leader they elected, had a great impact on the course of world events. It still does, but there are other parties going on the world. Equally important, if not more so for Africa's and Kenya's bread and butter, is what happens two days later in China.
Sudanese Arabic daily Al-Ahram al-Yawm
US policies toward Sudan are still of course marking time. But the pulse of the national street, as gauged by Al-Ahram al-Yawm is overwhelmingly biased to Barack Obama. A poll conducted by the newspaper demonstrated several reasons for this popularity among university students and youths who frequent the internet. These include the fact that he has given a lot to Islam and that he respects it. Some believe Obama has restored the usurped rights of the blacks.
BBC Monitoring reports and analyses news from TV, radio, web and print media around the world. For more reports from BBC Monitoring, click here