MPs reject government plans for pilot badger cull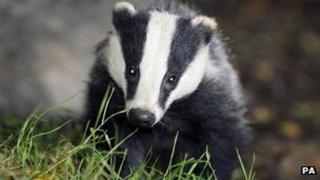 MPs have voted against the government's policy of culling badgers in two pilot schemes in England.
It follows a highly-charged debate led by backbenchers in the Commons.
Ministers want to hold a pilot badger cull in two areas of the south west next year because badgers spread tuberculosis to cattle.
In a non-binding vote, MPs rejected the policy by 147 votes to 28, calling instead for vaccination, improved testing and bio security.
Environment Secretary Owen Paterson told MPs it was "essential" the pilots go ahead next year and that they would be rolled out elsewhere if they were successful.
He said: "There will be time to prepare, there will be no hitches next year, we will deliver this policy."
The motion was tabled by backbenchers so is not binding on the government, but there have been widespread protests against the scheme.
Labour's shadow environment secretary said it was clear the "writing is on the wall" for the controversial plan.
'Deeply unpopular'
Ministers have given approval for a cull in two areas, Gloucestershire and west Somerset, as part of efforts to control bovine tuberculosis.
Under the plans, badgers will be shot in the open without first being trapped in cages which is current practice.
Opponents, including the RSPCA, say that is inhumane, with an e-petition to the government attracting more than 160,000 signatures.
The cull was originally planned to start earlier in the summer but was delayed until after the after the Olympics and Paralympics, with recent bad weather also hampering preparations.
A number of MPs spoke out against the plan, including Green MP Caroline Lucas who labelled the policy "ill-judged, unscientific and deeply unpopular".
She said: "We don't need any more trials or pilots. Scientists are queuing up to warn that badger culling is not the solution."
Labour's Barry Sheerman said Mr Paterson was simply "wrong" on the cull.
"These wonderful creatures roamed this country before we did, it's wrong because it's a destruction of tens of thousands of living animals and there is no scientific evidence it will do any good at all," he said.
'Absolutely devastating'
However, others spoke out in favour of the plan.
Tory Gary Streeter, MP for South West Devon, said if the badger culls were not pursued next year the "impact on farmers' livelihoods would continue and also the impact on their mental health".
He said it was a "dreadful disease and it's extremely distressing for farmers to have to cope with it".
Daniel Kawczynski, Conservative MP for Shrewsbury and Atcham, said he had seen a huge increase in the disease in his constituency.
He talked about the distress of farmers facing the slaughter of their cattle because of bovine tuberculosis.
"I don't mind saying that sometimes grown men and myself, we've sat round the table and cried," he said.
"When they see sometimes whole herds being taken away for slaughter, the impact that that has not just on themselves but also their families, particularly young children in that family, is absolutely devastating."