Ireland suspends aid channelled through Ugandan government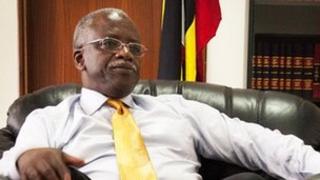 The Republic of Ireland's government has suspended all aid channelled through the Ugandan government.
A draft report by the auditor general of Uganda found that 4m euros in aid from Ireland had been misappropriated.
It had been transferred to unauthorised accounts in the office of Ugandan Prime Minister Patrick Amama Mbabazi.
Ireland's minister for foreign affairs described the report's findings as "deeply disturbing".
"I regard it as intolerable that any development assistance should be misappropriated or diverted," said Eamon Gilmore TD.
"The government will not provide financial support under our development co-operation programme unless it is clear that Irish money is being spent for the purpose for which it was allocated.
'Blight'
"The fact that the auditor general is now in a position to make them is a demonstration of the increased capacity and determination of elements within the Ugandan administration to enforce accountability for the use of government and donor money.
"It is only by building accountable systems such as this that the blight of corruption can be eliminated."
A team of Irish government officials are to travel to Uganda to try to establish exactly where the money is and if it can be recovered.
A number of other aid donor countries are affected, including Norway, Sweden and Denmark.