Afghan troops hurt in car bomb at Nato-Afghan Paktia base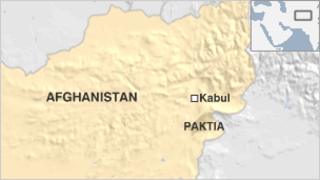 At least 45 Afghan troops have been injured by a suicide car bomb attack at an Afghan-Nato military outpost in eastern Paktia province, say officials.
The attacker reportedly detonated a vehicle packed with exlposives close to gates at the Zurmat base.
Deputy provincial governor Abdul Rahman Mangal said most of the injured soldiers had been hit by broken glass.
Foreign forces are due to withdraw from Afghanistan by 2014, which has sparked fears of a surge in violence.
Militants have increasingly been targeting members of the Afghan police and military as they take over security operations.
Nato said the combat outpost was attacked by "insurgents using a vehicle-borne improvised explosive device".
No casualties were reported among the Nato-led International Security Assistance Force (Isaf).
Provincial government spokesman Rohullah Samon told the Associated Press news agency the bomb appeared to have gone off before the driver reached the camp's gates.
He said most of the wounded soldiers had been in rooms hit by the force of the explosion, which shattered windows up to 3km (2 miles) away.
Isaf spokesman Maj Adam Wojack said mortar fire was directed at the base after the bombing.
But he denied a claim by Taliban spokesman Zabiullah Mujahid that insurgents had managed to break into the base.