From networked protest to 'non-capitalism'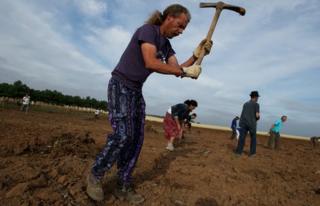 When most of us were still struggling to work our analogue modems, in the mid-1990s, one man had worked out where the internet was going.
Manuel Castells, one of the world's most cited sociologists, proclaimed the dawn of the "network society".
In pioneering quantitative research, he discovered that internet use and "projects of personal autonomy" fed off each other: that the internet, in other words, was changing our social attitudes and even our very selves.
For Radio 4's Analysis, on Monday night at 8.30pm, I quiz Professor Castells about his new book Aftermath - which looks at how the current financial crisis has produced networked protest movements, and even new "non-capitalist" forms of economic behaviour (the programme was recorded with a live audience at the London School of Economics last week).
"People have decided not to wait for the revolution to start living differently," he says. "We're seeing barter networks, social currencies, co-operatives. Networks of providing services for free to others in the expectation people will do the same for you. This new sector in the economy is expanding throughout the world."
'Crisis of trust'
Prof Castells conducted a large survey among people in Catalonia, Spain which found that 32% had lent money at zero interest rates to non-family members.
I tried this out on the 800-strong audience at the LSE - who were mostly students and young academics. On a rough tally, at least 20% had done so here.
Prof Castells believes this is not just an expansion of a kind of protest counterculture - what activists call "living despite capitalism":
"It's a combination of two things. A number of people have been doing this for quite a while already because they don't agree with the meaninglessness of their life. But now there is something else - it's the legion of consumers who cannot consume.
"And therefore since they don't consume - they don't have the money, they don't have the credit, they don't have anything, then they try at least to make sense of their lives doing something different."
Prof Castells, who himself has taken part in the Occupy movement in Barcelona, says:
"There is a crisis of trust in the two big powers of our world - the political system and the financial system. People don't trust where they put their money and they don't trust those they delegate in terms of their vote. All the statistics are there.
"It's a dramatic crisis of trust and if there is no trust, there is no society. It's simply institutions that still try to control citizens."
Backlash prediction
One of Prof Castells most famous phrases is that "society is defined by the bipolar relationship between the network and the self". I ask him to explain this:
"The more we are connected to everything and everybody and every activity, the more we need to know who we are. Unless I know who I am, I don't know where I am in the world, because then I am a consumer, I am taken by the market, I am taken by the media.
"And therefore people decide that they are going to be different. But to do that, they have to identify themselves as individuals, as collectives, as nations, as genders, all these categories that sociologists have already constructed time ago.
"With Facebook and with all these social networks what happened is that we live constantly networked. We live in a culture of not virtual reality, but real virtuality because our virtuality, meaning the internet networks, the images are a fundamental part of our reality. We cannot live outside this construction of ourselves in the networks of communication."
As to the future, Prof Castells says - neither the crisis nor the resistance it has summoned is over.
"Politicians and financial leaders keep saying 'the crisis is over, don't worry'. And it's not over and not over and we are already in the fourth year of this endless crisis; unemployment grows, social services are cut and it looks like the only solution to the crisis is to destroy the welfare state.
"The combination of this economic, social crisis and crisis of political legitimacy could provoke a joint backlash from the welfare state users, from the public sector unions, with all the new alternative movements in a very confused way and with simply individuals - people who want to take control of their lives."
From the man who knew what Facebook and Twitter would look like before they had been invented, that's some prediction.
Paul Mason will be in conversation with Manuel Castells on BBC Radio Four on Monday 15 October, at 2030 BST. The broadcast will be available on the BBC iPlayer or via the Analysis podcast.