Sir Jimmy Savile inquiry: BBC responds to staff concerns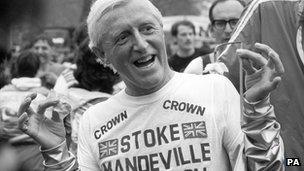 The BBC's director general has asked a senior colleague to talk to Newsnight journalists about their concerns over the dropping of the programme's planned investigation into Sir Jimmy Savile.
BBC Scotland director Ken MacQuarrie has been asked to talk to staff about the shelved broadcast last December.
The discussion will be fed back to the BBC Trust chairman, Lord Patten.
The corporation has always said the decision to drop the film was taken for "editorial reasons".
A statement from the BBC said: "This is not a review. The director general has simply asked Ken MacQuarrie to talk to members of the Newsnight team who had emailed him."
Newsnight editor Peter Rippon has previously insisted it was his decision to drop the story following newspaper reports that he was ordered to drop the investigation.
Writing in a BBC Editors blog, he said: "It has been suggested I was ordered to do it by my bosses as part of a BBC cover-up. It has also been suggested that we deliberately withheld information from the police.
"Both these allegations are totally untrue and, despite consistent strong denials, keep getting repeated."
He said some of his team "disagreed strongly" with the decision but that others "agreed equally strongly".
"However, those who disagreed accepted my decision. There were no rows of any kind as has been reported," he said.
The Metropolitan Police is now leading an inquiry into claims of abuse against the Leeds-born presenter and is pursuing 120 separate lines of inquiry.
A further two forces have referred a total of three new complaints to Scotland Yard, it has emerged.
Fresh allegations about Savile are continuing to emerge.
On Friday, a woman told the BBC that Savile abused a 12-year-old girl during a visit to a children's home in Leeds, West Yorkshire, in the 1970s.
She said the victim told her Savile indecently touched her after they went upstairs together.
Meanwhile, several hospitals are investigating allegations that Savile preyed on children during visits to wards as part of a catalogue of abuse.
Leeds General Infirmary has received two complaints of sexual assault by Savile dating back to the 1970s.
It is also claimed he groped patients at Stoke Mandeville Hospital, Buckinghamshire, where he was a volunteer fundraiser.
The Conservative Party chairman, Grant Shapps, said on BBC One's Question Time that there were questions to be answered and "the BBC knows that". He described the number of people who had come forward with claims of abuse as "disturbing".
He also said he would be in favour of the Honours Forfeiture Committee looking at whether or not it could strip Savile of his knighthood, despite the Cabinet Office previously stating there were currently no legal arrangements in place to remove honours posthumously.
Part of the reason is that an OBE or a knighthood expires when a person dies.
Shadow energy secretary Caroline Flint, who also appeared on the programme, said there should be a close look at the BBC "as an institution" and whether there was more it could have done.
But West London Mental Health NHS Trust said it had not been approached by police or any former patients or their representatives with any allegations.
The BBC will also hold an inquiry into allegations Savile abused girls while working for the corporation after the police investigation is completed. A figure from outside the corporation will run it.