IMF calls time on austerity - but can Greece survive?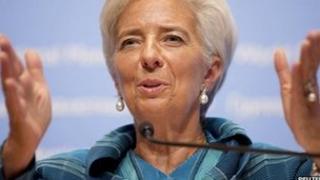 International Monetary Fund (IMF) boss Christine Lagarde called on Thursday for a slowdown in the austerity measures being implemented across the world, including in Greece - where IMF officials are currently locked in negotiations to release a crucial 31bn euros (£26bn) of bailout cash.
The move came after IMF Chief Economist Olivier Blanchard admitted the Fund's calculations of the impact of austerity had been seriously wrong.
The Fund's World Economic Outlook, published on Monday, contained a serious revision of the way its experts calculate the so-called "fiscal multipliers".
They had assumed, as the British Treasury does, that each 1 euro of cuts and tax rises takes 50 cents off GDP growth. Now, because of the paralysed banking system and the co-ordinated nature of austerity, preventing countries from recovering through export markets, the Fund estimates the impact is between 0.9% and 1.7%.
This is quite a massive revision - and explains why the Fund has been continually unable to predict the outcome of austerity measures, and constantly disoriented by the capacity for developed economies to take a double dip.
The test bed for the Fund's new economics has to be Greece, where the government has been given until next Thursday to pass a new round of austerity measures. If it does not, the threat hangs over Greece that it will not receive 31bn euros in bailout money and, by the end of November, go bust.
Meanwhile as BBC's Newsnight reported on Tuesday, there are severe strains showing in Greek democracy - evidence of police inaction during fascist raids on immigrant communities, allegations of human rights violations against protesters in custody, and concerns raised by Amnesty International.
Vicky Pryce, whose book "Greekonomics" surveys the political disorientation that has brought Europe to the brink of depression, told Newsnight:
"The only thing that could lead to Greece leaving the euro is if it ceases to be a democracy - and I predict that unless the rest of Europe comes to its aid, that is what will happen."
Mme Lagarde has called for Greece to be given two extra years to meet its deficit reduction targets. Whether the rule of law and social cohesion can last two years is now a matter of serious concern.