Chemistry Nobel goes to Robert Lefkowitz and Brian Kobilka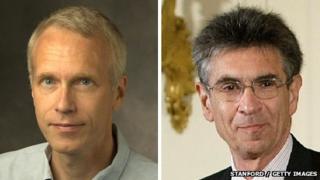 The 2012 Nobel prize in chemistry has gone to two US researchers whose work shed light on how the billions of cells in our body sense their environments.
Robert Lefkowitz and Brian Kobilka will share the prize of 8m Swedish kronor (£750,000; $1.2m).
Their work focuses on what are called G protein-coupled receptors, a class of molecules that cross cell membranes.
Understanding how they work has been crucial to unravelling the complex network of signalling between cells.
Sven Lidin of the Nobel committee started his summary of the work by shouting "Boo!" to assembled reporters; the rush of adrenaline one gets when scared, he explained, is just one manifestation of this vast network, communicating a chemical signal across billions of cells through otherwise impenetrable cell membranes.
'Enormous advances'
Dr Lefkowitz, of the Howard Hughes Medical Institute (HHMI) in Maryland, was reached by phone during the conference.
He was asked about receiving the fateful phone call informing him of his win, saying that he had not heard the phone ring.
"I must share with you that I wear earplugs and so my wife gave me an elbow, 'call for you', and there it was: a total shock and surprise, as I'm sure many before me have experienced.
"I'm thinking this is going to be a very, very hectic day. I was going to get a haircut - which if you could see me is quite a necessity - but I'm afraid that'll have to be postponed."
He went on to explain that the receptors "serve as the gateway to the cells for many different neurotransmitters and hormones in our body".
They capture signalling molecules both in healthy bodies and are the target for half of all pharmaceutical drugs.
"They are crucially positioned to regulate almost every known physiological process in humans. As physicians, what we need to do in cases of disease is regulate the activity of these, like adrenaline, as you heard, serotonin, and dopamine," Dr Lefkowitz added.
But signalling goes further than just the network of cells; ulitmately these same receptors link the cells to the outside world, ultimately allowing us to see, taste and smell.
Dr Lefkowitz started investigating the receptors by following the movement of radioactive isotopes attached to hormones within cells in the laboratory, trying to track down how signals get through cell membranes.
Dr Kobilka - who is now at Stanford University in California - joined the HHMI team in the 1980s, and they took another tack to discover how the receptors come about, searching within the human genome for the code that lays out the genetic instructions for them.
Taken together, the pair's work, as the Nobel site's summary explains, represents "knowledge... of the greatest benefit to mankind".
Mark Sansom of Oxford University said: "G-protein coupled receptors have for a long time been the holy grail of membrane protein research.
"In particular Kobilka's work in determining the structure of G-protein coupled receptors has revolutionised our understanding of how they work as small 'molecular machines' and will lead to enormous advances in drug design.
"Thus this is work at the biology/chemistry interface of great importance, and also with considerable impact in the broader sense."
The total number of chemistry Nobel recipients has now reached 163 since they began in 1901.
On Monday, the 2012 prize for medicine or physiology was awarded to John Gurdon from the UK and Shinya Yamanaka from Japan for changing adult cells into stem cells, and on Tuesday the prize for physics was awarded to Serge Haroche of France and David Wineland of the US for their work in querying single light and matter particles.
The prizes for literature and peace will be awarded later in the week, with the economics prize to be announced on Monday.