147 more jobs lost with Patton Group collapse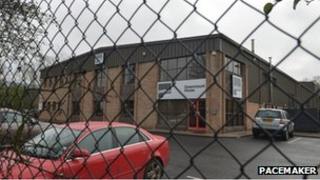 Almost 150 people have lost their jobs after another firm went into administration following the collapse of the Ballymena-based Patton Group.
More than 250 people lost their jobs at the Patton Group when the company went into administration earlier this month.
Now the administrators have been called to a number of companies within the Dunloy-based, Joseph Hughes Group.
The group said its position was "untenable" due to the Patton Group collapse.
Companies included in the administration are Joseph Hughes Painting Contractors Limited and JH Industrial Cleaning Services Limited.
Joint Administrator Stephen Cave said the group had "suffered growing cash flow difficulties" as a direct result of the downturn in the construction sector.
"A Company Voluntary Arrangement was already in place, but the collapse of Pattons has made the group's position untenable and it can no longer continue to trade.
"We regret that we have this morning, advised the workforce that all 147 of staff will be made redundant, with immediate effect."
'Devastating'
Mr Cave described it as "another severe blow to the construction sector" and was particularly difficult for the workforce so close to Christmas.
The group's businesses were established in 1977 and are based in Dunloy with offices in Belfast, collectively employing 147 staff, who provide specialist services, primarily to the construction sector.
Scores of subcontractors who carried out work for the 100-year-old Patton Group complained that they were owed money.
A group of them, who said they were owed about £17m by Patton, had asked the Stormont executive for a rescue package to help them.
Ian Paisley, the MP for the area said: "This is truly devastating news for everyone connected with the Joseph Hughes Group and again comes at a terrible time with Christmas just around the corner.
"After the disaster of Patton's in the last few weeks, the news comes as a huge double blow for the people and businesses of North Antrim.
"Right now I am calling on minister Stephen Farry to stand up and offer his support. All these employees who have been made redundant are entitled to a statutory redundancy payment from the department of employment and learning.
"Right now the process of this payment means it will take 10 weeks to come through. I am asking Stephen Farry now; right before Christmas, to help these people and to fast-track their applications.
"We can only imagine the sheer trauma and devastation they are already facing, I think a little help from our government would be greatly appreciated at this time."