Detective charged over links with News of the World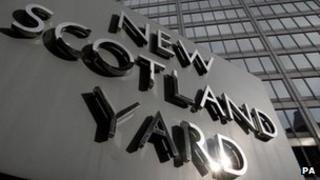 A senior Metropolitan Police detective has been charged with offering information to the News of the World (NoW) newspaper.
The Crown Prosecution Service said Det Ch Insp April Casburn had been charged with misconduct in a public office and would appear in court next month.
She is the first person charged under Operation Elveden, which is investigating alleged payments to public officials by journalists.
The NoW was closed in July 2011.
Det Ch Insp Casburn is accused of offering to give the paper information in September 2010 and is due to appear at Westminster Magistrates' Court on 1 October for an initial hearing.
Alison Levitt, the CPS's principal legal adviser, said: "The CPS received a file of evidence from the Metropolitan Police Service which arose from Operation Elveden in relation to April Casburn. Ms Casburn is employed by the Metropolitan Police Service as a detective chief inspector in specialist operations.
"We have concluded, having carefully considered the file of evidence, that there is sufficient evidence for a realistic prospect of conviction and that it is in the public interest to charge DCI Casburn with misconduct in public office."
The BBC's home affairs correspondent Danny Shaw said Det Ch Insp Casburn is the former head of the National Terrorist Financial Investigation Unit.
She is thought to have worked as a fraud expert at the City of London Police, prior to joining the Met.
Fifty people, including the former NoW editor and ex-Downing Street communications chief Andy Coulson, and former News International chief executive Rebekah Brooks, have been arrested as part of Operation Elveden. But other than Det Ch Insp Casburn, no-one has yet been charged.
Mr Coulson and Mrs Brooks are among a number of people who have been charged as part of the concurrent Operation Weeting investigation into phone hacking, primarily by journalists at the News of the World.
The newspaper was closed down by News International last year, after 168 years in print, following phone-hacking revelations.
A third police probe set up in the wake of the scandal, Operation Tuleta, is looking into alleged computer hacking.