What was driving Egyptian leader's Syria outburst?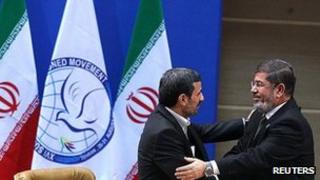 The comments about Syria made in Tehran by President Mohammed Morsi are part of an attempt to regain influence in the Middle East and to do so by being a difficult customer.
So any Iranian officials who were jubilant that Mr Morsi, as an Arab leader of stature, attended the non-aligned nations meeting in their capital may well have cringed as he blasted the "oppressive regime" of Iran's ally Syria from the podium.
Mr Morsi is making up for time lost following the fall of his predecessor Hosni Mubarak in February 2011, and the lengthy political turmoil that followed.
His current diplomatic offensive has also taken him to China and will see him address the United Nations General Assembly in New York next month.
The Morsi approach could hardly be more different from Mr Mubarak's. That former general could usually be relied upon to do America's bidding, for example calling regional summits when things seemed hopeless in Iraq or the occupied Palestinian Territories, thus providing some sense of movement or political support for US objectives.
This Mubarak approach may have struck many Egyptians as supine, but it had emerged over many years as the method that an elite dominated by the military used to maintain US military aid and access to advanced defence technology as well as broader economic support from institutions like the World Bank.
It is clear that Mr Morsi, a member of the Muslim Brotherhood for many years, wants to strike a markedly different tone and indeed may believe that doing so is also an essential way to gain outside support for his country.
So the Egyptian leader's visit to Beijing has been accompanied by reports that he is seeking to persuade the People's Republic to increase a $500m commitment for financial support to one of $3bn.
There has been speculation too that the new administration's actions in sending armoured forces into the Sinai Peninsula to attack militants there has been motivated in part by a desire to secure concessions from both Israel and the US.
Under the Egyptian-Israeli peace treaty, Sinai is meant to be de-militarised, and the Cairo government is not being clear about when these forces will be withdrawn.
Some have also cast Mr Morsi's opening to Iran (re-establishing diplomatic relations as well as visiting Tehran) as a move designed catch America's attention as well as marking out a more independent stance in foreign affairs.
Many governments have sought to woo the "Arab Street" since the outbreak of the revolutions in the region, and the Egyptian leader can at least position himself as a democratically elected, devout, Sunni Muslim with a stance quite separate from, say, Saudi Arabia.
Quite a few analysts in the region think Mr Morsi's actions are also motivated by the need to secure foreign assistance - be it Saudi, US, or even Chinese - without which the Egyptian economy could soon collapse.
What is less clear is whether his stances are driven by these urgent economic imperatives or whether deeper seated antipathy to the US or Israel might inform Egypt's future diplomacy.