Pakistan PM Raja Pervez Ashraf summoned over corruption case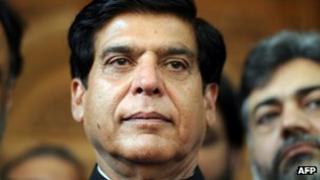 Pakistan's Prime Minister Raja Pervez Ashraf has been summoned before the Supreme Court for failing to reopen corruption cases against the president.
The move comes two months after Mr Ashraf's predecessor Yousuf Raza Gilani was found guilty of contempt over the same issue and barred from office.
There has been a long-running standoff between the government and the judiciary in Pakistan.
Observers fear the tussle could lead to further political instability.
Judge Asif Saeed Khosa said that Mr Ashraf had been given notice "under [the] contempt of court act 2003, read with article 204 of the constitution to show cause as to why he may not be proceeded [against] in contempt of court by not complying [with the] relevant direction of the court".
"He shall appear in person at the next date of hearing. Hearing adjourned until 27 August," Mr Khosa said.
The judge said that it was unfortunate that the prime minister had failed to comply with its orders. He warned that Mr Ashraf could be charged with contempt of court.
Last week the court struck down a new law exempting top government officials from contempt of court charges, saying it was unconstitutional.
Party 'to resist'
Critics of the judiciary and members of President Asif Ali Zardari's governing Pakistan People's Party (PPP) accuse the court of over-stepping its powers and waging a personal vendetta against him and his party.
The PPP leadership met on Tuesday and resolved to "resist" the court's directive to write a letter to Swiss authorities asking them to reopen cases against the president. It also formulated a strategy to cope with the situation if the court dismissed the prime minister, Dawn newspaper reported.
The charges against Mr Zardari date back to the 1990s when his late wife, Benazir Bhutto, was prime minister.
He and Ms Bhutto were accused of using Swiss bank accounts to launder bribe money. Mr Zardari insists the charges are politically motivated.
Government lawyers insisted then - as they do now - that the president enjoys immunity from prosecution as head of state.
Advisers to Mr Ashraf say that he is consulting with his political allies before responding to the court ruling.
Correspondents say that Mr Zardari is in little imminent danger of being tried, especially when the Swiss authorities say that they have no plans to continue with the case against the president.