London 2012 opening ceremony wows world media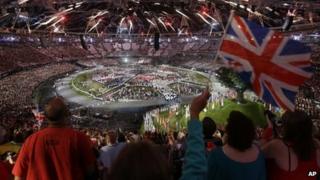 The London 2012 Olympic Games have been officially opened with a spectacular ceremony celebrating British history, social, cultural and industrial achievements.
Film director Danny Boyle, who masterminded the ceremony at the Olympic Stadium in east London, deployed a huge cast including many ordinary Britons as well dramatic special effects.
How was the event viewed around the world?
Asia-Pacific
China's mainstream party-run and state-run media were fairly measured and gracious in their comments on an opening ceremony that, in the minds of many Chinese, was going to be a bit of an anti-climax after director Zhang Yimou's lavish ceremony in 2008.
State-run Xinhua news agency said: "From Shakespeare to Rowling, from the industrial revolution to social networking, the British tried to tell the world - London has had influence and it will continue to influence the world."
Xinhua's Lin Yang said: "With idyllic pastoral scenes, British humour, and fantasy literature, the London Olympics opening ceremony was full of British characteristics. What lay behind these memorable parts were none other than Britain's well-developed cultural and creative industries."
Chen Chenxi, in the Communist Party People's Daily , praised the British for "thrift" and their "distinctive culture and aspirations". Chen commented, "If the Olympics opening ceremony can change from dazzling to being simple without losing warmth and from sumptuous extravagance to being calm but fully creative, it will increasingly return to the core values of the Olympic movement."
South Korea's Yonhap news agency reported a "lavish opening ceremony celebrating Britain's rich history and great figures, by turns dramatic, imaginative, humorous and solemn, as thousands of performers weaved the story of the country's past, present and future".
Singapore's Straits Times said: "Britain can make and is making it a grand show. It is not merely scale but also authenticity that makes a spectacular difference."
The Australian daily praised a "glorious pandemonium devoted to London's thriving, chaotic energy, that celebrated everything from punk music to social media and the internet, deliberately revelling in the chaos of Britain's free society and popular culture in an obvious retort to the breathtaking order and intimidating precision and scale of Beijing's ceremony in 2008".
Europe
France's Le Figaro daily said the display "reminded a billion viewers of the best contributions that Britain has given to the world for over a century: its sense of humour, its music, and of course sport".
The German papers also enthused over Boyle's extravaganza. "Fire in these Games" and "Wow, what a show!" said headlines in Bild, while Die Welt said the evening party was "brought alive by lighting technology, fireworks and simple British coolness".
Americas
The Los Angeles Times said the performance was "moving, bizarre, funny and exciting, and often surprisingly dark; certainly it was never dull. It had at times a quality of seeming completely random even as one suspected that repeated viewings would reveal all sorts of connections and echoes and interior rhymes."
The Canadian Broadcasting Corporation website said: "It was a rocking, rollicking, sometimes quiet and brooding ceremony that touched on pretty much every aspect of British culture and history from medieval times (what, no Battle of Hastings and Magna Carta?) to modern life."
Middle East
Commenting on the appearance of 86 year-old Queen Elizabeth, who declared the Games open, Egypt's Al-Ahram daily said: "Children's voices intertwining from the four corners of her United Kingdom ushered in an exuberant historical pageant of meadows, steel mills and megapixels."
Iranian TV was lukewarm at best, with Press TV describing the ceremony as "a light-hearted take on British history" but wondering whether the Games would be simply a "two-week of adrenalin rush for a country in deep recession with the hangover yet to come". The rolling news channel IRINN reported that the ceremony took place amid "intensive security measures".
Qatar's The Peninsula daily said London did a "spectacular job" making the opening ceremony a "memorable event". Boyle "succeeded in defining Britishness in a surreal, moving and for some, confounding affair because of the jumble of ideas and an effort to tell a thousand small stories, which may not have been understood fully by the international audience."
BBC Monitoring selects and translates news from radio, television, press, news agencies and the internet from 150 countries in more than 70 languages. It is based in Caversham, UK, and has several bureaux abroad. For more reports from BBC Monitoring, click here