Yahoo appoints Google's Marissa Mayer as new CEO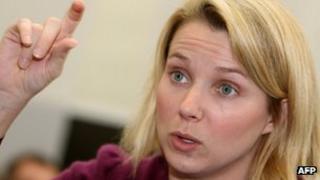 Technology firm Yahoo has appointed leading Google executive Marissa Mayer as its next chief executive (CEO).
Ms Mayer, 37, will become the firm's third CEO in the space of a year.
In a statement released by Yahoo , Ms Mayer said she was "honoured and delighted" to lead the company. She later revealed that she is expecting her first child.
In May, chief executive Scott Thompson stepped down after accusations that he put a fake computer degree on his CV.
In September 2011, chief executive Carol Bartz was fired after two-and-a-half years in the post.
Yahoo has struggled in the face of increased competition from search rivals including Google and the emergence of social giants such as Facebook.
Although it remains the largest web portal in the US, correspondents say Yahoo's failure to become more "social" has hurt the firm.
Its stock is now worth less than half its peak value.
Yahoo's news service still attracts very large volumes of traffic. But other products, such as its search engine and email, have suffered. The company's revenue from display advertising has also dwindled.
'Shaping Google'
Interim chief executive Ross Levinsohn was thought to have been the favourite for the job before Monday's announcement that Ms Mayer was to take the helm.
Correspondents say the selection of Ms Mayer to head the company suggests a renewed focus on technology and products, over online content.
"I look forward to working with the company's dedicated employees to bring innovative products, content, and personalised experiences to users and advertisers all around the world," Ms Mayer said.
She becomes one of very few women in Silicon Valley to rise to the top of a major technology firm.
"A lot of people did not believe that Yahoo could get someone of the caliber of a Marissa Mayer to become the CEO at this stage," Standard and Poor's equity analyst Scott Kessler told Reuters news agency.
Ms Mayer, who takes up her post at Yahoo on Tuesday, said the company was aware of her pregnancy during the recruitment process. "They showed their evolved thinking," she told Fortune Magazine.
She said her maternity leave would be a few weeks long, "and I'll work throughout it".
She joined Google in 1999 as the company's first female engineer.
A former computer science student at California's Stanford University, she was the fledgling company's 20th employee.
She worked on creating the Google search engine and the company's widely-recognised home page.
More recently, Ms Mayer has been in charge of the technology giant's location and mapping services, which include Google Maps, Earth, Local and Street View.
She has been credited with shaping much of the "look and feel" of Google's user experience.
Ms Mayer currently serves on the boards of Wal-Mart, San Francisco Museum of Modern Art, San Francisco Ballet and New York City Ballet. She will also join Yahoo's board.