Liberia's visionary entrepreneurs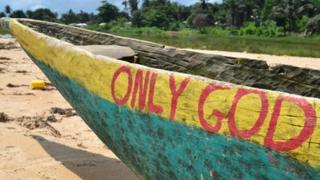 Businesses of all types are springing up in the poverty-stricken West African country of Liberia, writes the Today programme's Sarah Montague.
In the IMF's league table of poor countries Liberia ranks only above the Democratic Republic of Congo. But, the President, Ellen Sirleaf Johnson, has said, there is no reason why it shouldn't be prosperous and has even suggested that 10 years from now, it won't need foreign aid.
If there is to be any chance of that happening it will depend on the country's businesses - new and established - taking on some of the 90% of the population who are without work.
As you head out of Monrovia to Robertsport you pass through a market. As far as the eye can see, along the side of the road, there are brightly coloured umbrellas, each covered with plastic to protect against the monsoon rains.
And underneath each umbrella there are wheelbarrows piled high with things that people are trying to sell: from coconuts and clothes to rubber tyres and metal bowls. Anything, in fact, that might make someone some money.
In a country where so many of the population survive on less than a dollar a day, people here are desperate to earn a living. And there are some people with ideas of how that could happen.
Three hours from the city, at the end of a dirt track, on a beautiful stretch of deserted beach, a surfer from California has plans. Looking out from the balcony of his planned new surf retreat Daniel Hopkins told me about his vision.
Ambitions
He believes that surfers lead the way for more general tourism - and points to places like Bali in Indonesia where surfers went there first and tourists followed.
Daniel is convinced that when surfers hear how amazing the breaks are at Robertsport they will turn up . And with their laid back approach to life they won't mind that there's no running water, sanitation or even electricity.
So far Daniel has found it relatively easy to start a business in the country; he pays no tax but says corruption could have been a problem until he made it clear that his "mantra" is not to pay bribes.
He's an idealist and his dream is that by encouraging tourists he can plough some of his earnings back into what the locals say they want.
When I put it to him that he's a white man trying to re-introduce a white man's sport to the country, he said that his aim was to employ locals and run the business to their benefit. Daniel is even teaching Liberians how to make traditional Hawaiian wooden surfboards so that they too can afford to ride the waves.
Tom Luckie Gwagee is another young man with a vision. Nobody makes bicycles in Liberia, so he's about to go to the Netherlands to see how they do it. His aim is to open the country's first bicycle factory.
I met him at Liberia University's main campus and we chatted in one of the large sheds with its corrugated iron roof that serves as a meeting place and classroom.
"The guy I'm working with has a bicycle repair shop so he has the know-how. We want to work together to produce a bicycle in Liberia, sell them in Liberia with a traditional Liberian name."
He even told me about his hope that the government would introduce cycle lanes onto Liberia's chaotic streets. It hints at an image of what Monrovia could be like - a modern city with opportunities for the ambitious graduates we could see around us.
Leave the campus and you're brought down to earth.
Shovels and barrows
Sam Mitchell, the owner of Sam's BBQ and the Corina Hotel, is finding it difficult enough just keeping his business going.
He has ambitions - you can see it from the newly cemented walls rising above his hotel. But when I suggest that must mean business is good, he says wryly, "you should see my bank account".
He says business is hard and the economy is in the hands of visitors. Not just the big foreign mining companies but also the UN mission who have more than 10,000 staff in the country. Businesses like Sam's are dependent on them and he worries what will happen when they pull out.
As for tax, he sounded proud that he was contributing to the government and even mentioned feeling "embarrassed" when he had fallen behind in payments.
Princess Kofa doesn't pay tax but the good she does is obvious. She has a team of cleaners with rickety wheelbarrows and brooms who go through the sprawling Red Light Market at the start of the day collecting rubbish.
The traders pay her a small sum to keep their part of the market clean. It's a tough filthy job in one of the city's more dangerous districts but stall holders say it's made the market a safer, better place to be.
Most of her team of 33 are women and Princess Kofa would like to take on more. But that will depend on more people being prepared to pay to have their rubbish removed.
One of her staff, Tarissa, used to have her own market stall but told me she preferred the certainty of earning $2 a day for cleaning.
Watching them work, you're struck by the scale of their task. Armed with shovels and a few wheelbarrows these women are trying to clean filthy, rubbish lined streets that stink of sewage.
I ask Tarissa if she's daunted by the job. "We're trying, we're getting there," she replies. It's a line that sums up the attitude of many Liberians.