Benefits for striking low-paid workers to be axed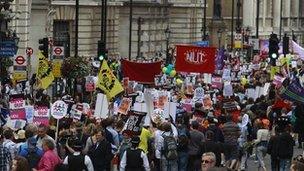 Low-paid workers who take strike action will no longer have their wages topped up by the state, ministers say.
Workers on up to £13,000 a year can currently claim working tax credits to top up their income even when they take part in industrial action.
But from next year there will be no increase in benefits if a worker's income drops due to strike action.
The TUC said it was a "mean-spirited" move aimed at deterring workers from standing up for their rights.
The change is part of the new Universal Credit, which is replacing the benefit system with a single payment.
Mr Duncan Smith says the fact that the current benefit system compensates workers and tops up their income when they go on strike is "unfair and creates perverse incentives".
"Striking is a choice, and in future benefit claimants will have to pay the price for that choice, as under Universal Credit, we no longer will," said Mr Duncan Smith.
But the TUC's head of economics, Nicola Smith, said most workers did not choose to go on strike "unless they feel they have no other choice".
And the money they lost in pay while taking part in industrial action was "far more significant than the small amounts of top-ups they get through the tax credits system".
She told the BBC News channel the right to strike was a democratic right that every worker in the UK had.
"And I think it's important that the government recognises that, and doesn't move ahead with this mean-spirited change that means for a few families things will be even tougher than they have to be at what will already be a very difficult time."
A spokesman for the Unite trade union said: "This is gesture politics aimed at putting fear into vulnerable, low-paid workers to stop them from standing up for their rights against poor working conditions."
Under the new rules, benefit claimants will be identified as being involved in a trade dispute using information provided by HM Revenue and Customs, the government said.
The amount a household receives in benefits will then be assessed using the normal, "non-strike" level of earnings.
Shadow work and pensions secretary Liam Byrne, for Labour, said every week the government found "someone else to blame" for the recession.
"Britain needs a plan for jobs and growth and a government which will take a sensible approach to industrial relations.
"Instead David Cameron's out-of-touch government, not content with creating panic at the pumps after mishandling the fuel dispute, are talking about starving people back to work.
"It seems that Iain Duncan Smith has put the idea that 'we are all in this together' well and truly in the bin."
Labour MP Anne Begg, chair of the work and pensions select committee, said questions remained on the Universal Credit.
"This is another example of it not being as generous as the government first made out that it was.
"The gains may actually be less than the gains that previously existed under the tax credit system. "