Kidnapped UK aid worker Khalil Dale killed in Pakistan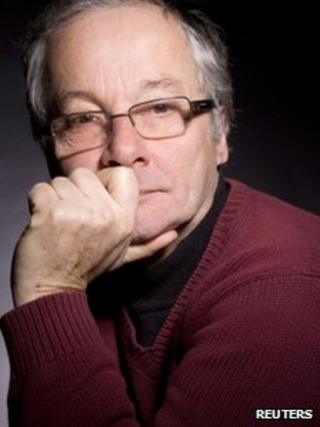 A British aid worker kidnapped in Pakistan in January has been found dead, the Foreign Office has said.
Khalil Dale, 60, who worked for the International Committee of the Red Cross (ICRC), was kidnapped in Quetta, south-west Pakistan.
The body of the Muslim convert was found in an orchard in Quetta with a note saying he had been killed by the Taliban, local police said.
Prime Minister David Cameron said the killing was "shocking and merciless".
Mr Cameron said: "Khalil Dale has dedicated many years of his life to helping some of the most vulnerable people in the world and my thoughts today are with his friends and family."
Some reports say the militants holding Mr Dale had asked for a very large ransom which could not be paid.
'Devastated'
Mr Dale, originally called Ken, lived and worked in Dumfries, south-west Scotland, in the 1990s.
Scotland's First Minister Alex Salmond said: "He had many friends around the world and regularly travelled back to Dumfries where he was well known and loved."
He had worked for the ICRC and the British Red Cross for many years, carrying out assignments in Somalia, Afghanistan and Iraq.
British Red Cross chief executive Sir Nick Young said Khalil first worked overseas for the Red Cross in 1981 in Kenya, where he distributed food and helped improve the health of people affected by severe drought.
He also worked in Sudan before his posting to Pakistan.
Sir Nick added: "He was a gentle, kind person, who devoted his life to helping others, including some of the world's most vulnerable people.
"Care workers like Khalil, and his colleagues in dangerous places all over the world, should be allowed to work free from threats of abduction and violence."
He was abducted by unidentified armed men while on his way home from work.
Aleem Maqbool, the BBC's correspondent in Islamabad, said very little had been heard publicly about the case since eyewitnesses reported seeing Mr Dale's car ambushed by suspected militants in early January.
Most international aid agencies had moved foreign staff out of Quetta long ago and the death would only persuade more to do the same, our correspondent added.
ICRC director general Yves Daccord said: "The ICRC condemns in the strongest possible terms this barbaric act.
"All of us at the ICRC and at the British Red Cross share the grief and outrage of Khalil's family and friends. We are devastated.
''Khalil was a trusted and very experienced Red Cross staff member who significantly contributed to the humanitarian cause."
Foreign Secretary William Hague said: "I utterly condemn the kidnapping and killing of Mr Dale, and send my deepest condolences to his family and loved ones as they come to terms with their tragic and distressing loss.
"This was a senseless and cruel act, targeting someone whose role was to help the people of Pakistan, and causing immeasurable pain to those who knew Mr Dale.
"My thoughts are with them, and with all those who have dedicated their lives to assisting the world's most vulnerable people through the Red Cross."
He added "tireless efforts have been under way to secure his release, and the British government has worked closely with the Red Cross throughout".
Shiela Howatt, who worked with Mr Dale when he was a staff nurse at Dumfries Infirmary in the 1990s, said he was "no stranger to danger", and had previously been captured in Mogadishu.
"He was an absolutely lovely person devoted to caring for others less fortunate than himself," she told the BBC.
"He spent his time in war-torn countries where help was needed, where people were desperate and that was Ken's role in life."
Mrs Howat, who knew Mr Dale for 25 years, said his fiancee Anne, who is also a nurse, lives in Australia.
The MP for Dumfries and Galloway, Russell Brown, said he also counted Mr Dale as a friend.
"We were all hoping for a somewhat more satisfactory end, but dare I say my thoughts are also tinged with a degree of anger," he said.
"He went out to do good work in a foreign land, helping people out there as he's done for many years in different parts of the world, and he gets captured, kidnapped, and meets a horrific death."
Troubled area
Quetta, close to the border with Afghanistan and to Pakistan's troubled tribal areas, has been beset with problems of militancy.
There is known to be a Taliban presence there, but there has also been violence connected to the separatist movement in Balochistan.
The Red Cross operates clinics in Quetta that treat people wounded in the war in Afghanistan, including Taliban insurgents.
In August last year, a 70-year-old US aid worker was kidnapped in the city of Lahore.
Al-Qaeda leader Ayman al-Zawahiri later issued a video saying he would be freed if the US stopped air strikes in Afghanistan and Pakistan.
Nothing has been heard of him since.