Ofcom steps up inquiry into BSkyB's broadcast licence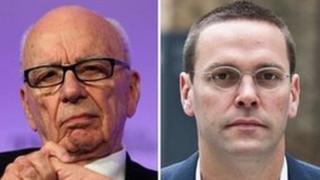 The broadcast regulator Ofcom has stepped up its inquiry into whether BSkyB is a fit-and-proper company to hold a broadcast licence.
It has asked News Group newspapers for more documents disclosed in the civil cases relating to phone hacking.
Rupert Murdoch's News Corporation is the parent company of both News Group, which published the News of the World newspaper, and part-owner of BSkyB.
The BBC understands that the company will supply the information requested.
Earlier News Corporation's founder, Rupert Murdoch, told the Leveson inquiry into press behaviour that there was a "cover-up" of the wrong-doing at the News of the World (NoW) but that is was kept hidden from him.
He apologised for failing to get to the bottom of the matter.
The BBC's business editor, Robert Peston, said Ofcom's call for more documentation was the first confirmation that the malpractices at the News of the World are material to Ofcom's decision about whether BSkyB, which is 39%-owned by News Corp, is fit and proper to hold a broadcasting licence.
He says it raises the possibility that News Corp could be forced to materially reduce its shareholding, so that it would no longer be seen to have a material influence over BSkyB.
News Corporation had wanted to take control of the 61% of BSkyB it did not own, something that had been allowed by the Culture Secretary Jeremy Hunt, despite a recommendation from Ofcom that it be referred to the Competition Commission.
News Corporation decided to abandon the plan amid widespread outrage over phone hacking, including reports that its News of the World newspaper had hacked the phone of the murdered schoolgirl Milly Dowler.
Resign
Jeremy Hunt has under scrutiny over his dealings with News Corp while its bid was being examined by regulators. On Wednesday his special adviser resigned after the Leveson inquiry heard details of emails between himself and an aide to James Murdoch, Rupert's son and then boss of BSkyB.
Ofcom has been gathering evidence since last summer, when it said it would consider whether phone-hacking allegations at the News of the World were relevant to News Corp's fitness to own BSkyB.
Until now, the regulator has been monitoring publicly-available evidence but it has now called for documents that have not yet been in the public domain.
Ofcom said in a statement: "Ofcom is gathering evidence which may assist it in assessing whether BSkyB is and remains fit and proper to continue to hold its broadcast licences.
"As part of this ongoing assessment, Ofcom has contacted News Group Newspapers requesting documents which it understands are held by the company and which may be relevant to this assessment.
"BSkyB is party to this correspondence."
Neither News Corp or BSkyB have yet made a public comment on the development.