Norway killer Breivik goes on trial in Oslo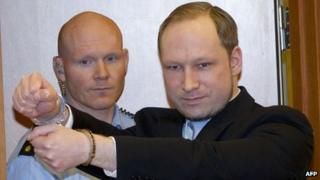 The man responsible for killing 77 people in Norway last summer, Anders Behring Breivik, goes on trial in Oslo on Monday, with his guilt already established, but with the court due to rule on his sanity.
On 22 July 2011, a car bomb was set off in the centre of the Norwegian capital Oslo, killing eight people. The man responsible, a right-wing extremist, escaped the scene and two hours later went on a shooting rampage, targeting a political summer camp on the island of Utoeya, claiming another 69 lives.
It was among the worst acts of mass murder ever carried out by a terrorist acting alone. Over the next 10 weeks, the people of Norway will have to relive the horrors and agonies of that day as the trial unfolds.
Perhaps hardest of all, they will have to hear Breivik, with his pronounced anti-Islamic views, attempt to justify his crimes - crimes that seem as senseless as they were brutal.
Many who died on Utoeya were teenagers, members of the Norwegian Labour Party's youth wing, gunned down indiscriminately in the middle of their summer holidays.
"In one place I saw over 10 bodies - very young people just being butchered," said one survivor, Sam Muyizzi.
Winding roads
In the months that followed, a great deal of criticism was directed against the police in Norway for their alleged failure to respond effectively to Breivik's attacks.
The police commander who directed the response, Einar Aas, has revealed the scale of the confusion that reigned in the first hour after the Oslo bombing.
"We hadn't a clue who or what we were dealing with or the underlying motive," he told the BBC in his first international TV interview.
"That's why we wanted to get people off the streets and away from public places. We had to avoid more people being injured or killed."
Fearing further bombings, Oslo's police chose not to seal off the city and instead encouraged people to leave.
It was a fateful decision. Breivik was among those able to leave Oslo and continue to his next target.
Two hours later, came the first reports of shootings on the island of Utoeya.
Delta Force, Norway's elite anti-terrorism commandos, were ordered to the scene. But no helicopter capable of transporting them was available.
Instead, Delta had to drive the 40km (25 mile) journey, through winding mountain roads and Friday rush-hour traffic. It took them 40 minutes. Throughout that time, the young people on the island were defenceless.
There was more delay when they arrived on the shore opposite Utoeya, believing that they faced more than one gunman.
Delta filled the only police boat available with officers. The boat was overloaded, took on water and eventually stopped.
Delta had to be rescued by a local boatman. Once they reached the island, Breivik surrendered.
"I fully understand that one minute, one second, one life is entirely too much in this situation," said Terje (full name withheld), the operational commander of Delta Force on that day, in his first TV interview.
"We did the best we could to get out to that island as quickly as possible. I am proud of my team for the job that they did on that island."
Deep waters
Eight months later, the police and prime minister of Norway finally issued an apology for the failures of the response.
Yet some survivors believe the police are not the only ones who should have their actions on the day examined.
The waters around Utoeya are deep, cold and difficult to swim. When Breivik began shooting, the best hope of escape for the young people on the island was the ferry to the mainland. It was an old military landing craft, which could carry up to 60 people and was armoured against bullets.
Yet in the first few minutes of the attacks, the leader of the Labour Party's youth wing, Eskil Pedersen, fled on the ferry with only eight other people on board.
"It's easy to see that that's what people would have done in a situation like that. Most people would have run away," another survivor, Bjorn Ihler, told BBC Two's This World.
"But at the same time this was the leader of the group that was on the island and like a captain abandoning the ship."
In response, Eskil Pedersen said: "I think to discuss the choices people did, whether they were right or wrong, I don't think that's right to do. Because everyone tried to save their lives."
Inevitably, the role of Breivik himself overshadows these questions.
In his forthcoming trial, the issue of guilt is not in doubt. Breivik confessed moments after his arrest.
He claimed he had targeted the Labour Party because it promoted multiculturalism - a policy that he believed was bringing about a Muslim takeover of Norway and Europe.
The trial's primary purpose now is to establish if he was insane when he committed his attacks.
Two teams of court-appointed psychiatrists have assessed Breivik in prison. The first, whose report came out in October last year, concluded he was a paranoid schizophrenic whose vision of the world was delusional to the point of madness.
The second team, who reported this week, believed the opposite - that he was sufficiently sane to be held criminally responsible for his actions.
The judges must decide which report is correct.
Prison psychiatrist Dr Randi Rosenqvist who assessed Breivik personally three times in prison, makes it clear where she stands.
"The view that Muslims should leave Norway has nothing to do with psychosis," she says. "Also, the belief that Muslims will take control of Europe within 20 years is shared by many people without them being psychotic."
Throughout his upcoming trial, that is precisely what Breivik himself intends to prove.
This World: Norway's Massacre is on BBC Two at 21:00 BST on Sunday 15 April. Watch online (UK only) or check for repeats at the above link.