Afghanistan killings: Your reaction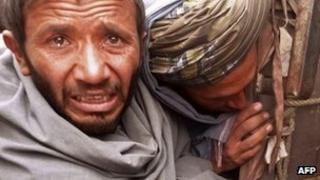 The Afghan parliament has condemned the killing of 16 civilians by an American soldier and demanded that he be tried in an Afghan court.
US officials have issued an alert, fearing reprisals after theKandahar rampage. Nine children were among those killed.
BBC News website readers in Afghanistan, and those who have lived in the country, have been reacting to the news.
Shrinivasrao, Kabul, Afghanistan
This is an unspeakable incident of tragic proportions.
It is very shocking news for anyone to hear and one has to wonder whether this is a reflection on the competence of the people supervising these soldiers.
This is not the first time that behaviour such as this has come to light. This has a profound effect on how people view the US armed forces and by association ISAF (International Security Assistance Force). In turn this has a bearing on how the international effort at large is viewed.
I think President Karzai's reaction was appropriate. Karzai is the leader of the nation and obviously he would speak from his heart to convey the reaction of the people.
I cannot speak for others, but I would think that an action such as this could have a profound effect on the way people here view the relationship between the US and Afghanistan.
Chris Terrill, London, UK
Chris Terrill is a film-maker who has spent time in Afghanistan
I'm a film-maker and spent some months in Helmand last year working with 42 Commando in Nad Ali (north).
I came back full of hope that stabilisation was occurring and that progress towards transition was being made. I really felt that the idea of transition in 2014 was achievable.
What happened in Kandahar is deeply shocking and I am sure everyone in Helmand, American and British alike, is braced for the inevitable backlash.
One hears about people going rogue and going on a killing spree, like high-school killings, or the Norway shootings. But these people are unhinged, untrained individuals.
In Afghanistan one expects soldiers to be highly trained. The soldiers I know do feel anger, but this is directed against the Taliban, not against the local people.
When I first went to Afghanistan I witnessed full-on fighting in the area I was filming. Since 2006, such good progress has been made in establishing good relationships with the civilian population.
During that time, seven commandos were killed protecting the village. Now I think many of troops will be disheartened, wondering what it was all for.
It is a tragedy that so much great work will have been undone in a heartbeat.
I do understand that these things happen - sometimes rogue incidents like this will occur, we have to keep the faith. But it is disheartening.
As for President Karzai - he had to say what he said, he had no choice. Given what happened after the burning of the Koran, he had to come out looking like a champion of the people.
He is dealing with a very divided government - not just in Kabul but in the whole region. People are very undecided about which way to lean, whether towards the government or the Taliban.
Yousef, Kabul, Afghanistan
President Karzai has called this an "unforgettable act". This is an exaggeration. Why not say the same thing about all the previous acts like this?
He is simply making these statements to cover up the failure of the government. He is surrounded on all sides and is using this event to control the sentiments of the people. This is really hypocritical.
I think both sides in this are playing a political game to cover up the failure of a decade-long mission to Afghanistan.
The failure cannot be assigned to US and its allies all alone. The Afghanistan government and its leadership is also responsible.
The majority of the Afghan population is illiterate and it is easy to whip up their sentiments.
President Karzai has not managed things well. A decade of huge international funds flowing into the country was the major path for a sustainable economic development, and development of economic infrastructures - but the Afghan government and its leadership failed.
Now a retarded economy and a highly dependent government can't stand on its own feet. They have failed to establish a federal government.
Now is not the time to be talking about these sentiments. They must start to pass effective laws.
Mahir, Kabul, Afghanistan
Mahir works in finance in Kabul
The action of this US soldier should be condemned in the strongest possible words. Killing unarmed civilians including children is unforgivable. All Afghans including myself are very unhappy about this.
However, Afghans need to try to see the bigger picture and not put the needs of one clan, one village or 17 lives ahead of the interests of a country which has 30 million inhabitants.
In my view, these killings were the actions of an individual or a small group of people. This does not represent the views or actions of the US army or government.
Afghanistan is close to signing a strategic partnership with the US. This agreement could bring long-term stability to Afghanistan where the lives of Afghans in the future will be protected against invasion and killing.
Similarly, the US must take this issue seriously and not allow the actions of individuals to jeopardise its relations with Afghanistan.
Immediate precautions need to be taken. I don't think it would be a waste of time for President Obama to pay a quick visit to Afghanistan and express his condolences right here in the country.
President Karzai is under a lot of pressure at the moment. On Sunday, parliament closed its doors for the day to protest against what had happened.
Some parliamentarians are calling for Karzai to step down. However, this event could work in Karzai's favour as it will provide weight to his argument that night searches - conducted by the military into civilian homes - should be stopped.
In the same way, Karzai benefited from the burning of the Korans last week. This allowed him to push for control of the Bagram airbase, something that the US was at first reluctant to give.
John, Kabul, Afghanistan
John (not his real name) is a pilot who has worked in Afghanistan for three years
Why are the journalists criticising only the American soldiers for killing people, especially the soldier who killed all the unfortunate civilians?
When the Afghan soldiers kill NATO troops, there is no such outcry or messages from President Karzai stating that the "killings could not be forgiven".
I think the criticism from the president, and seeing allied troops bending over backwards to appease them, just winds up the Taliban.
There have been countless examples of Afghan soldiers killing their trainers. When those Korans were burned last week, six allied soldiers were shot. There was no world outcry about that.
I have lost a lot of respect for Islam since moving here three years ago to work.
They are not interested in our apologies, they don't care. It's a totally different environment here to in the US or Britain.
I've lost a lot of faith in what we're doing here. I think our aims are good but the way we are going about it is wrong.
As for the soldier, war does strange things to people. It sounds like this soldier lost it. Someone should have picked that up earlier. But the environment here is so stressful perhaps it isn't surprising that something like this happened.
Interviews by Susannah Stevens