The Commonwealth: Redundant or relevant?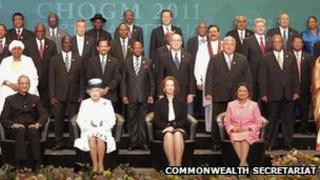 As Queen Elizabeth II celebrates her Diamond Jubilee this year, her 60 years as Head of the Commonwealth will also be marked.
The Commonwealth of Nations evolved from the British Empire, with the main aim of promoting democracy and development among member states.
Today, the organisation consists of 54 countries of over two billion people around the globe.
And Yemen, Sudan, South Sudan, Somaliland, Madagascar and Algeria are all applying to become members.
But with regional blocs such as the European Union and Nato already in existence, is the Commonwealth of Nations of little importance, or does its understated role make it a force to be reckoned with?
If you are from a country that wants to join the Commonwealth, a BBC journalist would like to interview you to hear your thoughts and ideas.
Thank you for your comments, you can read some of your views here: