Palestinian prisoner Khader Adnan 'ends hunger strike'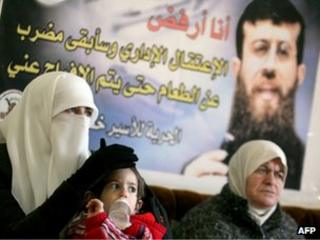 A Palestinian prisoner has ended his 66-day hunger strike over his detention by Israel in a deal that will see him released in two months, officials say.
The Israeli justice ministry announced that Khader Adnan would remain in custody until 17 April, when his "administrative detention" would end.
Mr Adnan has not eaten since December, when he was arrested in the West Bank.
He is widely believed to be a leader of Islamic Jihad, which Israel has designated a terrorist organisation.
The Israeli military has said that Mr Adnan - a 33-year-old baker - was arrested "for activities that threaten regional security".
Earlier this month, an Israeli military court ordered that Mr Adnan be placed for four months in administrative detention. Under Israeli law, such prisoners can be held indefinitely without trial or charge.
'Imminent danger of death'
Mr Adnan has been refusing food since 18 December - one day after he was detained at his home in the village of Arabah - in protest at what he says was a violent arrest as well as humiliating interrogation sessions.
On Tuesday, Mr Adnan's lawyers had been due to petition the Israeli Supreme Court for his release when the Israeli justice ministry announced that it had reached a deal that would see him eventually released.
"The state... agrees to offset the days in which the appellant was detained for the purpose of a criminal investigation prior to his administrative detention from the period of the current administrative detention order, and also announces that as long as no new significant and substantive material is added regarding the appellant, there is no intention to extend the administrative detention," a statement said.
"In light of state's foregoing announcement, the appellant states - via his attorney - that he is halting his hunger strike effective immediately."
The BBC's Jon Donnison in Ramallah says Israeli officials will likely be pleased with the outcome.
On Friday, the Israeli group Physicians for Human Rights, which has been monitoring his condition, warned that he was "in immediate danger of death", adding that he had suffered "significant muscular atrophy".
Human rights groups also criticised the conditions in which he was being held at Ziv hospital in the northern Israeli town of Safed, where he was shackled to his bed by chains on both legs and one arm.
The European Union's foreign policy chief, Catherine Ashton, said the bloc was following Mr Adnan's case with "great concern."
"Detainees have the right to be informed about the charges underlying any detention and be subject to a fair trial," she added.
Thousands of Palestinians also took to the streets of the Gaza Strip and West Bank to demand Mr Adnan's release, while Islamic Jihad had promised revenge if he was allowed to die by the Israeli authorities.
It is unclear whether Mr Adnan, who was a spokesman for the group, has ever participated in its attacks, which have left dozens of Israelis dead.