Spain Judge Baltasar Garzon vows to fight conviction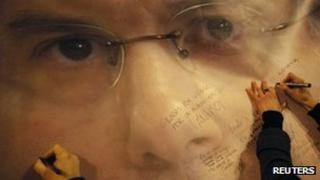 Spanish Judge Baltasar Garzon has vowed to fight his conviction for authorising illegal phonetapping despite the court barring him from appealing.
In a statement, he said his rights had been "systematically violated" with the ruling, which saw him suspended from the judiciary for 11 years.
Hundreds of people protested in Madrid in support of the campaigning judge.
But Mr Garzon is also involved in two other legal cases and observers say he may be facing years of struggle.
The 56-year-old campaigning judge is best known for helping to secure the arrest of the former Chilean leader Augusto Pinochet in London.
In Thursday's finding, he was convicted of authorising illegal recordings of conversations between lawyers and detainees accused of paying off politicians of the now-ruling conservative Popular Party in exchange for lucrative contracts.
As well as being suspended from the judiciary, he was fined 2,500 euros (£2,100; $3,300).
He acted arbitrarily in ordering prison conversations between suspects and their lawyers, the judge ruled, adding that his actions "these days are only found in totalitarian regimes".
"I reject the sentence head-on," Mr Garzon said in a statement. "My rights have been systematically violated.
"I will turn to the appropriate legal channels to fight this sentence and carry out all pertinent actions to try to mitigate the irreparable harm that the authors of this sentence have inflicted."
His lawyer, Francisco Baena, told AFP news agency he may appeal to Spain's constitutional court and, failing that, the European Court of Human Rights - a process observers say could go on for years.
'Shame!'
Mr Garzon is also awaiting judgement in a second trial for trying to investigate atrocities committed during and after the Spanish Civil War in alleged breach of a 1977 amnesty - angering right-wing groups.
In a third case, he could be charged for alleged bribe-taking from a large Spanish bank.
Hours after the ruling, hundreds of protesters gathered in Madrid's Puerta del Sol square in freezing temperatures, shouting "Shame! Shame!"
The verdict was also condemned by the International Commission of Jurists.
"The circumstances in which this conviction has been made cannot avoid being seen internationally as a punishment for Judge Garzon for investigating the crimes of the Francoists," said Pedro Nikken, ICJ president, who observed the second trial.
But Justice Minister Alberto Ruiz-Gallardon said the government had "utmost respect" for the ruling, while the head of the Madrid regional government, Esperanza Aguirre of the PP, called it a "happy day".
"Because the ends, and I have no doubt that Garzon's ends were praiseworthy, the ends cannot justify the means and that is the basis of the rule of law," she said.
As well as pursuing Gen Pinochet, Mr Garzon also rose to prominence in Spain for investigating Basque separatist group Eta, 1980s-era government death squads and indicting Osama Bin Laden.