Soul Train creator Don Cornelius kills himself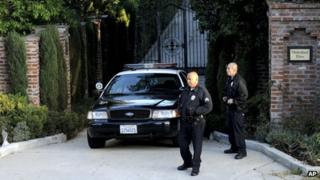 The creator of the long-running US TV show Soul Train has shot himself at his Los Angeles home, police said.
Don Cornelius, 75, was pronounced dead on Wednesday morning after police answered reports of gunshots at his home around 04:00 (12:00 GMT).
Soul Train began in Chicago in 1970 but aired nationally from 1971 to 2006, showcasing artists such as Aretha Franklin, Marvin Gaye and Barry White.
Cornelius stepped down as host of the hit show in 1993.
'TV for black folks'
Soul Train came to prominence in the years after the cultural and political upheaval of the civil rights movement.
It was credited with helping to tear down racial barriers, bringing black music into the cultural mainstream and showcasing soul and funk to a national audience.
The show brought new dance moves, fashion and hair styles to their audiences and created the iconic dance line, where dancers could show off their moves.
"I'm... trying to avoid saying there was no television for black folks, which they knew was for them," Cornelius said of the show in 2006.
Initially, the show was seen by some as a black answer to American Bandstand, a music show presented by Dick Clark.
American Bandstand sometimes featured very mainstream African-American artists, but Soul Train created a platform for black artists who might not have had the opportunity to appear on American Bandstand.
'Cultural game changer'
But Soul Train remained popular long after black musicians became part of mainstream music and culture in the US.
"I figured as long as the music stayed hot and important and good, that there would always be a reason for Soul Train," Cornelius added.
Soul Train eventually grew into a franchise that included the Soul Train Music Awards, the Soul Train Lady of Soul Awards and the Soul Train Christmas Starfest.
Cornelius was awarded a place in the Broadcasting and Cable Hall of Fame in 1995 and has a star on the Walk of Fame in Hollywood.
Paying tribute to him, music producer Quincy Jones said: "Don was a visionary pioneer and a giant in our business.
"Before MTV there was Soul Train, that will be the great legacy of Don Cornelius. His contributions to television, music and our culture as a whole will never be matched."
The civil rights activist Reverend Al Sharpton said in a statement from New York: "I have known him since I was 19 years old and James Brown had me speak on Soul Train.
"He brought soul music and dance to the world in a way that it had never been shown and he was a cultural game changer on a global level."
In 2009 Cornelius was sentenced to probation for three years on charges of physical abuse in his marriage.
During his divorce case that same year it emerged that he also suffered from health problems.