Syria agrees to extend Arab League observer mission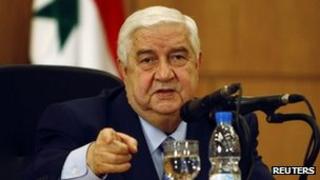 Syria has agreed to extend the mandate of the Arab League observer mission by a month, Syria's state-run news agency Sana reports.
Foreign Minister Walid Muallem had informed the secretary general of the league of the Syrian government's decision, Sana said.
The group will now continue its work until 23 February.
The mission was set up in late December to monitor Damascus' compliance with a league plan to end bloodshed in Syria.
The Local Co-ordination Committees, a network of anti-government activists, said 60 people had been killed across Syria on Tuesday - including five defecting soldiers and 41 in Homs, a major focal point of unrest.
The UN says more than 5,000 people have died as the government seeks to quash 10 months of protests.
Syrian officials say about 2,000 members of the security forces have been killed in the unrest, which has become increasingly violent as defectors from the army join the opposition.
'New York or the moon'
Syria's decision to agree an extension of the mission is not a surprise, reports the BBC's Jim Muir in Beirut.
In a news conference a few hours before the extension to the observer mission was announced, Mr Muallem had drawn a distinction between the mission and the new Arab League peace plan announced on Sunday, he adds.
The new plan called for President Bashar al-Assad to step down and for elections to be held. Damascus rejected the proposals out of hand as a blatant interference in its affairs.
The six members of the Gulf Co-operation Council (GCC) - Saudi Arabia, Bahrain, Kuwait, Oman, Qatar and the UAE - had earlier announced the withdrawal of their countries' monitors from the mission.
In a statement, the GCC called on "members of the UN Security Council... to take all needed measures to press Syria to implement the Arab League decisions and the Arab initiative on Syria".
The move means the mission will now continue without almost a third of its 160 or so members.
Britain, France, Germany and Arab nations are working on a resolution to put before the Security Council next week condemning Syria's crackdown on protests, AFP reports.
Mr Muallem dismissed the possibility of the crisis being referred to the UN, saying: "Whether they go to New York or to the moon it's their business. As long as we're not paying for their tickets."
Some regional powers were "internationalising" the situation in Syria, he added.
Security Council action on Syria has so far been prevented by veto-wielding permanent members Russia and China, who have been reluctant to back action that they say might lead to Libya-style military intervention.