New cyber attack hits Israeli stock exchange and airline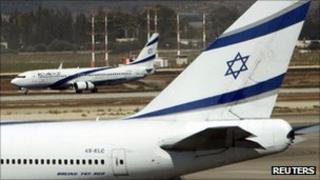 The websites of Israel's national airline, El Al, and the Tel Aviv stock exchange have been disrupted just hours after they were reportedly threatened by a Saudi computer hacker.
Flights and trading on the stock exchange have not been affected.
There has been a series of hacking attacks affecting Israeli businesses in the past two weeks.
The most serious saw details of tens of thousands of Israeli credit cards posted online.
A message was posted on the home page for the Tel Aviv stock exchange saying that the site has been taken down for "maintenance". It also came up as "too busy".
It appears to have been overloaded with requests in what is known as a denial of service attack.
"The website is working as normal. What the hacker did is he put a lot of traffic on the entrance to the website," says stock exchange spokeswoman, Orna Goren.
"There are too many users so it's hard to get into the site but our trading system is working as usual."
"Now we are trying to clear the traffic so everyone can use the site. We'll discuss what we can do in future to solve these issues."
The El Al website directly referred to "Saudi hacker activity" causing possible disruption online. "El Al is aware that for the past two weeks cyber war rages against Israel" it says. There has been no effect on flights operated by Israel's national airline.
Politically-motivated
Israeli media had earlier reported that a hacker who describes himself as a Saudi, called OxOmar, had announced plans to make further attacks.
The Israeli news website, YNet said it was informed by the hacker that they would be carried out by a pro-Palestinian group referring to themselves as "Nightmare".
On Sunday, the Islamist group, Hamas, which governs the Gaza Strip, again praised the hacking of Israeli websites and called for it to be stepped up.
Israeli officials confirmed that at least 20,000 active credit card accounts were affected by a cyber attack at the start of the year. It was one of the worst incidents of data theft in Israel. Banks had to cancel cards and issue new ones after data was published on the internet.
Last week, an Israeli hacker retaliated by publishing details of hundreds of Saudi credit cards online.
Hackers have warned of the dangers of a so-called cyber war in the Middle East. However Israeli computer experts say politically-motivated attacks have taken place for decades. They suggest the latest attacks show the need for the private sector to improve its security.